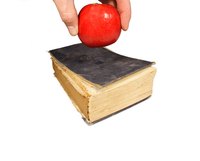 The topic of insurance for retired teachers is somewhat confusing, because of their employment status. Teachers are considered public employees, that is, people who are employed by the state or local government. As such, teachers employed by the public school system prior to April 1, 1986 are generally not eligible for Medicare, but instead are covered by state or local programs.
State Based Programs
Most retired teachers are insured through the State Teachers Retirement System (STRS). Because the programs are administered a little differently by each state, the program names are not uniform. In Massachusetts, for instance, it's the Retired Municipal Teachers' program; in Ohio, it's the State Teacher's Retirement System of Ohio. Like the names, the premiums, deductibles, co-pays and benefits offered also vary greatly from state to state.
Other STRS Offerings
In some states, the STRS programs offer more than basic health care. For additional fees, they may also offer vision care, dental care, long term care insurance and insurance riders specific to certain diseases such as cancer or heart disease.
STRS Programs in Trouble
As health care costs skyrocket and states face growing financial burdens, many states are looking to cut back or even eliminate benefits for retired teachers. Some are asking for financial assistance from the federal government so they can continue to insure retired public employees. Other STRS programs are not cutting benefits, but are sharply increasing their premiums to the point where they are not affordable for some participants.
Alternatives
Retired teachers without access to health insurance through STRS programs may be put in the position of paying for Medicare privately. This option is cost-prohibitive for many retired teachers, however, because in 2010 the premium for Medicare Part A, or hospital insurance, was $461 a month. This does not even take into account premiums for Medicare Part B (medical insurance) or Medicare Part D (prescription insurance), let alone the cost of a supplemental Medicare health plan. Retired teachers who cannot afford insurance any other way may be forced to buy catastrophic, or high-deductible, private insurance plans.
Federal Law Eases Future Problems
On 19 March 1986, Congress passed a law stipulating that all public employees hired on or after April 1, 1986 would pay into the Medicare system and would be eligible for Medicare the same as any other type of employee. While this will undoubtedly add stress to the Medicare program, it will relieve stress from the states which no longer have to bear the cost of insuring retired teachers and other public employees.