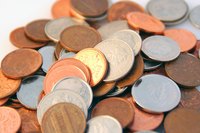 Financial responsibility is an important part of being an adult. Unfortunately, it is something that many people do not learn until it is too late, if at all. Living a financially responsible lifestyle will reduce stresses upon you as you are able to make ends meet without sinking into debt and are able to cover unanticipated expenses.
Credit Card Balance
Your credit card is not free money. While minimum payments are often very affordable, being able to pay them does not make you financially solvent. In fact, the opposite is true; if all you can pay is a minimum payment, then you couldn't afford the debt in the first place. What's more, stretching credit card payments out over months or years means you will actually pay far more than the original balance in interest.
A good rule of the thumb is to never put charges on your credit card that you cannot afford to pay off in their entirety. This is financially responsible because you will only be spending money you have, not borrowing money and spending on interest.
Loans
Having said that about credit cards, it is acceptable to get loans sometimes. The fact is, there are certain aspects of living that cost a great deal of money that very few people have on hand. A good example of this is home purchases.
Be reasonable, though. Buy a house you can afford, not one you hope to afford. Also, try to get a locked-in interest rate rather than a floating interest rate as these fix your monthly costs and make budgeting easier. They also make it easier to plan for contingencies like job loss.
Knowing what your monthly mortgage payments are and knowing how you are going to make them is another part of the definition of financial responsibility.
Save Money
You should save at least 10 percent of your income for retirement and emergencies. The best way to do this is to set up an automatic payment that immediately removes 10 percent of your paycheck for placement into an IRA or 401k. Because the money is deducted automatically from your account, there is a good chance you won't miss it and will adjust your living costs accordingly.
If you have money saved, you will have something to fall back on in the event of unforeseen events taking place, like a lost job or losing money on a bad investment.
Invest Your Savings
Savings accounts are good places for emergency money because they are so liquid (easily-accessed). However, you should also be putting some money into investments that will create an income for you, either now or in your retirement. Stocks are one good choice, as are property. If your employer offers a fund-matching retirement system, take advantage of that, as it represents a return on your investment no matter what happens.
Creating an income for yourself that is not related to your job is financially responsible because it makes you less dependent on one source of income.
Emergency Fund
The savings account mentioned above should be at least enough to support you for six months, should you lose your source of income through a crisis such as a layoff or firing. You do not want to be in a situation where one or two missed paychecks will destroy you financially. This is financially responsible because it is anticipating the unexpected. You cannot predict the future, and even the most solid job can be lost.