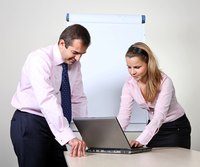 Control charts are a beneficial way to analyze and monitor the current status or end result of a business process. With this data, management can tell if the process is going according to original specifications, or if things need to be tweaked to regain the quality of performance that was intended.
Origin
Control charts are sometimes referred to as Shewhart control charts. W. A. Shewhart is credited in having used the first charts of this type in 1931.
Types
Control charts can have many different appearances depending on what they're used for. Two common types of charts are referred to as Percent Nonconforming Charts (P Chart) and Average and Range Control Charts (X-R Chart). If the purpose of the chart is to accumulate data that can have two distinct outcomes, such as yes or no, or correct or incorrect, a Percent Nonconforming Chart is better to use. If the data deals more with something such as time or production numbers, then an Average and Range Control Chart would be the best choice. Other types of charts are the S Chart, S**2 Chart, C Chart, U Chart and Np Chart.
Use
A control chart uses data that is collected and then applied to the standard or ideal result. The middle line on any control chart represents the goal of the process itself. One line is positioned both above and below the middle line to serve as control limits. These limits, the Upper Control Limit and the Lower Control Limit (UCL and LCL), provide a range of what is still acceptable for a result. Control charts are therefore used to determine if the results that are coming in are within the limits of what is acceptable or if the process is out of control.
Interpretation
Since processes are never completely perfect, some variation is expected. If fluctuations occur within the established control limits, this typically means that minor issues inherent in the process that allow that to happen need to be corrected. The system or process itself would need improvement to minimize those issues. If major fluctuations are found to occur and results fall outside of the limits (referred to as being "out of control"), that typically means a major issue needs to be addressed either with employees or with a machine.
Management
Managers review control charts to determine what changes need to be undertaken for their processes. If results do show that things are "out of control," it is imperative that swift changes be made to correct the issue that is placing the process in this state. Control charts are reliable ways of showing managers if a glaring issue exists, and if nothing else, they show just how much fluctuation goes on regularly within their processes. Typically improvements will be made and the process will be tested again, as businesses and managers continue to look for ways to improve.