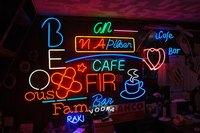 Product differentiation is an important aspect of any product line. One way to create product differentiation is through advertising. A great example of this is 7-Up, which has distinguished itself from competitors in advertisements as the "uncola." A clear understanding of the role of advertising in product differentiation is necessary for anyone who wants to market or advertise a product.
History
Product differentiation is a concept first proposed by Edward Chamberlain in 1933. He put forward the idea that it was possible to distinguish one product from another in the mind of consumers, and that in doing so businesses could make products more attractive to a target market. During the early 20th century, as businesses became larger, advertising was increasingly used to communicate product differentiation to the masses.
Function
It is difficult to sell a product to all people with the same sales pitch. Instead, different products are marketed to different customers. The role of advertising in differentiating a product is to explain to consumers how the specific products will fit their specific needs. Consumers Bank, for instance, targets its advertising toward middle-class Americans, showcasing products that are suited to them rather than Wall Street investors. Advertising makes product differentiation more readily apparent to consumers than it would be otherwise.
Significance
The role of advertising in product differentiation has taken on even larger significance in the 21st century. It has become possible to segment the market into very specific niches, and the rise of specialty television stations and Internet marketing has made it possible to target these niches better than ever before. Advertising is the most significant method of differentiating a product because it allows the advertiser to explain to consumers how the product is different. Walmart, for instance, differentiates itself by advertising everyday low prices, to distinguish itself from competitors who rely on sales and to appeal to people who are not looking for bargains, but consistently low prices.
Benefits
The role of advertising in product differentiation has benefited both consumers and businesses. Businesses have been able to increase sales by communicating specific benefits of a product to specific consumers. Consumers have benefited because they have been made aware of products designed for their specific needs. BlackBerry, for example, advertises its smart phones as being capable of functions suited to business people, whereas the iPhone is advertised as a hip, trendy product for young people. Where it was once the case that consumers would be exposed only to mass-marketed products, they are now presented with products narrowly aimed at their needs and interests.
Misconceptions
Some people believe, mistakenly, that advertising alone can differentiate a product. This, however, is not the case. The role of advertising in product differentiation is not to create the difference but merely to make that difference known to consumers. It is therefore necessary that product differentiation be extended to the actual design of the product. If the product has a differentiated design, then it is possible to advertise that difference.