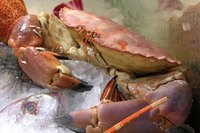 Possible side effects for Nourkrin hair-loss treatment, according to the Hair Loss Learning Center, are associated with allergies and sensitivities to the marine-derived ingredients. Nourkrin is marketed as a natural dietary supplement and topical containing marine components like shellfish that can cause allergic reactions. A November 2006 Journal of International Medical Research (JIMR) study indicated that Nourkrin was well tolerated by all participants, and none dropped out of the study because of side effects.
Ingredients
Nourkrin hair-loss tablets, according to Health Innovations, are composed of two major ingredients: shark cartilage and shellfish extract, both containing glucosamine. Some of the other active ingredients include horsetail extract, silica kieselguhr (which is a natural form of silica), vitamin C, microscyrstaline cellulose, acerola cherry extract, immunogloblin G protein and fatty acids. The tablets are taken daily and the topical Nourkrin shampoo, conditioner and scalp lotion are suggested as additional products to promote growth.

Function
The Hair Loss Learning Center indicates Nourkrin products are designed and promoted to encourage hair growth in both women and men suffering from all kinds of hair loss, including androgenic alopecia (genetic baldness), alopecia totalis, alopecia areata, alopecia universalis, and telogen effluvium. Its active ingredient glucosamine is supposed to grow new tissue and rebuild dormant hair follicles. JIMR's study further explains that Nourkrin strengthens existing hair, promotes regrowth and encourages growth of dormant hair.

Findings
Hair-loss study researcher Thom Erling responded to the results of his JIMR 2006 study on Nourkrin by saying, "The positive effect seen with Nourkrin combined with the excellent tolerability make this product an attractive treatment alternative for people with hair loss problems." Since side effects appear to be limited to people with shellfish allergies and the results were notable, Erling considers Nourkrin a viable hair-loss treatment option.
Considerations
The Hair Loss Learning Center does not list a money-back guarantee for Nourkrin results, but the clinical studies, according to the JIMR study, do support its efficacy. The monthly cost of Nourkrin treatment, including the tablets, shampoo, conditioner and scalp lotion, can run more than $100 a month. Other hair-loss products like Rogaine cost only $15 a month, and products like Propecia cost only $60 a month, but they do not claim to be natural, notes the Hair Loss Learning Center.

Caution
Nourkrin is not listed as safe for pregnant women and nursing mothers at the Health Innovations website. Since the relatively new product has no long-term studies on its efficacy, it cannot be described as safe for an infant or unborn child yet. In addition, since the FDA does not regulate dietary supplements as strictly as drugs, the burden of safety and efficacy is on the manufacturer of the product. The FDA doesn't conduct pre-market testing on dietary supplements.