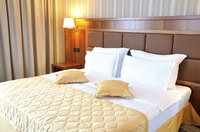 In the hotel industry, a double room is simply a room designed to accommodate up to two people. It may have one bed or a set of twin beds. Depending on the hotel, that one bed may be a king, queen or double. Actual room size depends on the individual property and its interpretation of the phrase.
Room Rate
Hotels calculate a rack rate for each room category. That's the optimal amount of revenue they would like to see per room. For example, if a hotel has a double room that costs $100 per night, that rate is good for one or two people. In most cases a single guest will end up paying that $100 per night rate. A great way to get around this is to ask if there are any specials.
Double Room Confusion
Hotel chains often use the term "standard" to define a double room. For example, Travelodge labels its double occupancy rooms "1 Queen Bed Room" and "1 Queen Bed Standard Room." Both allow a maximum of two people per room, and the amenities are identical. It's just a question of marketing.