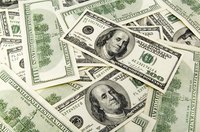 Investing in mutual bonds is a conservative way to go; you may not make as much money with them as you could in the stock market, but you will probably not lose money either. The biggest difference between an individual bond and a mutual bond is that with a mutual bond, you are investing with others, potentially earning a higher interest rate and receiving dividend payments more often; with individual bonds, you are the only one purchasing the bond so the amount of the bond will be lower. This earns you less interest and pays you less frequently.
Definition of Mutual Bonds
According to MutualBondFunds.com, "bond mutual funds invest in bonds and other debt securities." Essentially what you're doing when investing in mutual bonds is pooling your money with the money of others to purchase bonds from either the government, corporations or municipalities. These organizations are borrowing from you and your mutual investors with the agreement that they will pay you back by a specified date with interest.
U.S. Government Mutual Bonds
When you invest in mutual bonds with the U.S. government, you are investing in the U.S. Treasury. According to Open-IRA.com, "Government bonds are generally taxable," so keep that in mind when tax season rolls around. Many experts consider government bonds to be the safest because they are backed by the U.S. government; however, they are still subject to market fluctuations and changing interest rates.
Municipal Mutual Bonds
When you invest in municipal mutual bonds, you are investing in state and local agencies. The money you lend these municipalities goes toward road construction and maintenance, schools, hospitals, libraries, state-sponsored programs and several other projects. Unlike government and corporate bonds, municipal bonds are often exempt from state taxes and are always exempt from federal taxes. Although these bonds are backed by the U.S. government, they are slightly more risky than government bonds, but are still much more stable than the stock market.
Corporate Mutual Bonds
Corporate mutual bonds are fairly self-explanatory. You, along with others investing in the mutual bond, are lending your money to corporations to help them fund various projects. Like government bonds, corporate mutual bonds are taxable. Unlike government and municipal bonds, these bonds are not backed by the government, so they are the riskiest of the three types of mutual bonds; however, keep in mind that the payout is generally higher than the other two.
Where to Purchase Mutual Bonds
The best place to purchase government bonds is straight from the source: TreasuryDirect.gov. If you're looking for municipal bonds, you can buy them through FMS Bonds, Inc. You can purchase government, corporate and municipal bonds from RBCBondSearch.com.