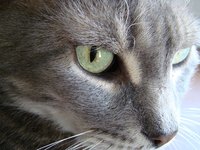 According to the Companion Animal Parasite Council, roundworms are the most common parasite in cats and dogs. All cats have roundworms at some point, contracted through ingested soil or infected insects. A cat may also pick up roundworms by eating an infected rodent. Roundworm infections cause obvious symptoms and may kill young kittens, but have proven and effective treatments.
Effects
Roundworms travel through a cat's digestive system to settle in its intestines, where they feed off of the passing nutrition. These parasites cause a pot-bellied appearance and may lead to weight loss, dull coat, coughing and general malaise.
Treatments
Deworming paste kills the worms and allows the cat to digest and excrete their bodies. Most deworming medications are available both through the vet and over the counter, or OTC.
OTC Medications
The Companion Animal Parasite Council points out that many heartworm medications also treat roundworm infections. Since roundworms are sometimes called tapeworms, look for an OTC medication that treats heartworms and roundworms, or heartworms and tapeworms.
Deworming Schedule
Kittens should receive deworming medications when they are young to prevent roundworm infections. A kitten should receive dewormer at three weeks, five weeks, seven weeks and nine weeks to kill any parasites before they can cause problems.
Lifestyle
One other way to prevent roundworm infections is to modify a cat's lifestyle and keep its environment clean. Clean the litter box often and keep the cat indoors, away from wild animals that carry parasites.