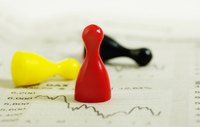 Risk management forms a central part of any project management scheme. Apart from adding value to any project plan, it forms a central component part of a scheme that depends upon specific methodology to function. Much like overall security plans, risk management ensures that breaches do not appear in an otherwise well-managed plan and enables the identification of opportunities when they present themselves.
What Are Risks?
Risks are either threats to progress or opportunities for advantage. The more widely accepted concept of a risk being a threat is more obvious. But risk can also be an opportunity. Either way, they introduce an element of uncertainty to any controlled situation, and can create a negative impact on a project's ultimate objectives or create a favorable impact on the project's objectives.

Correctly Reporting and Managing Risks
Risk management, if applied correctly, can be a tremendous advantage to a project of any size. Not only does it protect the outcome from not being reached because of a threat to it, but it can lead to some benefits which might have been missed without proper management. All risks must be identified, assessed and then controlled. Once under control, the benefits will start to be realized. There are fewer responses to opportunity than threats. Threat responses are to typically avoid, reduce, fallback, transfer or accept, whereas an opportunity will be exploited, enhanced or rejected. Both types can be shared.

Risk Identification
Identify risks using specialized techniques. These can be routine procedures, such as the review of previous similar projects, the review of known risks that have occurred in previous projects, compiling a checklist and even brainstorming techniques. Identify and recognize the threats and opportunities that can introduce uncertainty. Also use the risk-breakdown structure by analyzing the hierarchical structure of a project to identify increasingly detailed sources of risk. This will act as an aid to thinking through the potential risks which could be lurking in any project.

Risk Evaluation and Ownership
Evaluate risk by proximity (how soon will it impact), probability (how likely is it to affect the project) and impact (how greatly will it introduce change into the project). This measures the way a threat or opportunity will affect the project. There are many ways of evaluating how the risk impacts the project. Create a risk assessment taxonomy chart as a visual representation of all the risks affecting a project and who the owners are. Its layout will be useful in apportioning ownership of each risk.

Risk Communication
Communicate information about potential and existing risks to all people who are involved in the project work. This means maintaining the network of communication at all times and identifying all changes that might affect the exposure of the project to existing risks. Also be open to identifying new risks and communicate them to all interested parties as soon as they are identified.