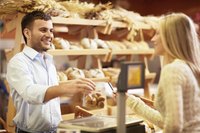 At almost any fast-food restaurant you care to mention, you'll hear the question "You want fries with that?" -- or its equivalent -- posed to almost every purchaser. It goes almost unnoticed because it's an expected part of the transaction, but it conceals an important truth that applies to almost any business. Finding ways for your customers to spend more money on your products or services is one of the most reliable ways to increase revenues and profits.
Driving Revenues
Gaining new customers is an expensive proposition, and increasing your marketing budget isn't always an option. Increasing the value of each sale, on the other hand, is as simple as asking for those fries or their equivalent in your business. Often, you'll be adding value to the initial sale and improving the customer's overall experience. Thoughtful add-on sales -- far from coming across as pushy -- can help you differentiate your organization as one that takes its customers seriously.
At Retail
Retailers have almost unlimited opportunities to add on, regardless of their product line. Clothing buyers need accessories, smartphone buyers need chargers and protective cases, auto-parts customers need tools and lubricants, and almost everyone needs batteries. Your staff must understand which high-profit items you want to emphasize and make sure they're in stock and readily accessible. If you're uncertain where to start, look at what other stores are doing. Sometimes the easy sale is unrelated to your core product line: Those candy displays at the hardware store and the elegant truffles at the upscale women's boutiquea aren't there by accident.
Direct Sales
The same principles apply in wholesale and direct sales. Sales staff should be trained to know which products and services add value for the client, and offer them up automatically as part of every sales presentation. Intangibles -- services, rather than physical products -- are often the most profitable. These might include installation and training to smooth a client's transition to new equipment, or a service plan to ensure that it continues to provide good service. The same holds true even when the base product is intangible, as with insurance. The cost of underwriting is covered by the initial policy, so customizing a base policy with add-on policy riders is a profitable way to personalize it for the client's needs.
Making It Happen
Selecting profitable add-ons is only the beginning of the process. The hard part is training your staff to ask for that add-on sale every single time. Often they'll be reluctant, but if the kids at that fast-food restaurant can do it, so can your sales staff. Put a scoresheet on the break-room wall to track add-on sales, and often their competitive streak will do the rest. Technology can help, too. Program your POS computers to provide pop-up prompts for suitable add-on products as a reminder for staff who aren't completely up to speed. With complex items, consider printing up reminder checklists to give to your customer. This is the easiest add-on technique of all, letting the customer choose from your personally tailored list of suggestions.