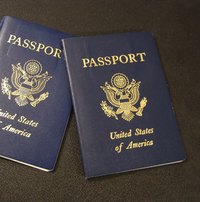 Millions of travelers board cruise ships bound from the U.S. for the Caribbean each year. The warm, tropical weather, white sand beaches and crystal clear waters of the Caribbean are virtually impossible for vacationers to resist. Because the majority of Caribbean Islands are not United States territories, it is necessary for travelers to obtain a passport or a passport card to gain entry onto the islands and re-entry into the United States.
Passport Cards
Passport cards are accepted when traveling via cruise ship to the Caribbean from anywhere in the United States, Canada and Mexico. All customs agents in the Caribbean, Canada and Mexico accept passport cards in lieu of passport books as long as the traveler is entering or leaving the country via cruise ship or land. Passport cards are not accepted during air travel in any of these countries.
Definition
A passport card is a form of passport that is smaller and more convenient to carry than a passport book. Passport cards are the size of your driver's license and fit easily into your wallet. Passport cards are popular because they are less expensive than a passport book.
Application
United States citizens obtain passport cards using the same method as obtaining a passport book. All U.S. citizens must fill out and submit a Form DS-11, the Application for a U.S. Passport. Applications must be submitted at a passport acceptance facility, which are in most post offices, public libraries and government offices. The Department of State's website allows U.S. residents to search for local passport acceptance facilities using its search link.
Cost
As of July 2010, the cost for a first-time passport applicant to obtain a passport card is $45 for adults and $35 for minors. The fee for previous passport holders, card or book, is $20. Passport cards are mailed to applicants by the U.S. Department of State once the application has been processed.
Features
Passport cards contain a radio frequency identification chip, or a RFID. This chip allows border agents to scan the card in their system to obtain your photo identification and all of your personal information from the United States government databases.