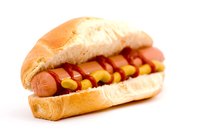 Establishing a hot dog cart business in California can be challenging due to the state's tough health code laws. But once hot dog vendors obtain the proper health and business permits, operating a stand can be profitable. Operating a hot dog cart is like developing any business. A business plan must be established, and investment funds should be available. Capital outlay of a basic hot dog cart business can start at about $30,000.
Background
Operating a hot dog cart allows individuals to be self-employed, work outdoors and enjoy the benefits — and risks — of entrepreneurship. California is a desirable state to operate a hot dog cart because its mild climate allows operation virtually year-round. Myriad entertainment, tourist and beach venues provide ample space for competing vendors. Commercial centers, universities, civic centers, transportation hubs and courthouses where large numbers of pedestrians pass by are optimum sites for hot dog cart owners, according to Californiahotdogcarts.com.
The Basics
Developing a business plan is imperative to the success of a hot dog vendor. Potential cart owners should consider locations and competing vendors. Special attention should be paid to how other vendors succeed or fail at their business. The right hot dog cart must be selected. Business licenses and location permits must be obtained from city or county clerks' offices. A health permit must be obtained. A relationship with a supplier that qualifies as a commissary, such as a restaurant or deli, must be established.
Bells and Whistles
Hot dog carts range in prices from a few thousand dollars to as much as $50,000. Basic carts should be equipped with a tow hitch that is Department of Transportation (DOT) compliant, an electrical highway lighting system and wiring harness, stainless steel body construction, proper tires that can be used on the highway, enclosed refrigerator, 20-gallon fresh water tank, 30-gallon wastewater tank, propane burners, steamers, hot and cold pressurized water system, sneeze guard, 120-volt AC outlet and umbrella. Fryers, griddles, compartmentalized cooler storage space and other accessories can be ordered.
Keeping It Clean
Health code permits can be obtained for fees up to $400, depending on the issuing county. All hot dog cart vendors must meet California Retail Food Code regulations. The cart and preparation practices of the vendor will be subject to county health inspections before the permit is issued. Some foods may not be permitted for sale, such as pork, raw meats or fish. Establishing a relationship with a commissary is vital to the business. This allows the vendor to have a venue to prepare and store perishable foods. Commissaries already conform to strict health laws. Without a commissary there is no hot dog business.
Tasty Menu
From a practical standpoint, the hot dog cart menu varies little from vendor to vendor due to California's stringent health laws. Customers are not expecting gourmet food but they are hoping for something tasty. Variations can include spicy sausages and a wide variety of condiments, along with the standard hot dog and bun. A good recipe or a choice selection of meats and condiments can make the difference between your business or the vendor down the street getting repeat customers.