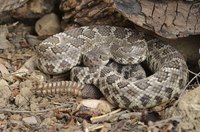 Pet owners across North America have good reason to fear rattlesnakes. Their potent venom is deadly to humans as well as dogs and cats. Encounters with these reptiles are uncommon for those living in developed areas, but that does not mean suburban or city cats are safe from rattlesnakes. Their fangs deliver a fatal toxin, though cats can survive the incident if they receive immediate medical attention.
Why Snakes Strike
Rattlesnakes use their venom to hunt small prey and defend themselves against larger animals. Adult cats are usually too big to become a meal for a snake, although smaller cats and kittens might be be targeted. If your kitty was struck by a snake, then he probably approached the snake on his own. Rattlesnakes seek shelter during the day, so outdoor cats who wander outside of the yard are the most likely to encounter one. The snakes are most active during the fall, so restricting your kitties time outside during this season can reduce the risk.
Bites in Cats
Cats tend to be bitten on the paws rather than the face or body. Bites near the mouth, ears and eyes are more serious because of the dense network of blood vessels in the head, according to Tenaker Pet Care Center in Aurora, Colorado. Rattlesnakes don't inject their toxin with every strike, although the majority of bites in pets are venomous. Treat every snake bite as if it contained venom, even if you don't know what type of snake bit your pet.
Identifying Snake Bites
The two tiny holes in your cat's paw aren't always easy to spot, but a crippling limp and visible swelling certainly are. The severity of the toxin depends on the maturity of the snake and the size of the cat, according to Eldorado Animal Clinic in Santa Fe, New Mexico. The venom spreads through the victim's bloodstream and can affect the heart, brain and other vital organs. Affected cats may become agitated and disoriented. Severe symptoms include muscle spasms, seizing and bodily weakness. Seek immediate veterinarian care.
Emergency Care
If you believe your cat has been bitten by a rattlesnake, you should seek professional medical assistance immediately. Treating the bite at home can do more harm than good. Don't apply ice or heat to the bite, or attempt to remove the toxin from the wound. Likewise, don't tie anything around your cat's leg to slow the venom. Restrain your pet and prevent him from moving as much as possible. Get him into the carrier and take him to a local clinic immediately. Rattlesnake bites are very painful for your kitty, so he may become aggressive when you handle him.