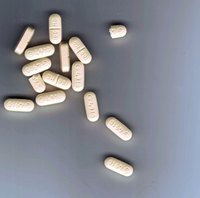 According to U.S. Federal Drug Administration (FDA) guidelines, pharmaceutical manufacturers are required to embed identifiers in each pill they produce. The embedded imprints identify the manufacturer, medication and medication's strength. The imprints can be numbers, logos, symbols, names, letters or characters. Size, shape and color usually denote a drug's strength. In 1986, the FDA started collecting imprint information that was submitted voluntarily, with its Division of Drug Information sorting and saving the data.
History
Drugs were first regulated in the United States in 1906, according to EH.net, which the Economic History Association owns and operates. Those regulations were revised over the years, and the newest regulations are on the FDA's website. Federal regulations implemented in 1995 required imprinting of solid, oral-dosage forms of most prescription, over-the-counter, biologic and homeopathic drug products. The imprint information allowed for unique identification of a drug product and its manufacturer or distributor.
Significance
Drug imprint codes are helpful not only to health-care workers and law enforcement officers but to the people who take prescribed or over-the-counter drugs, according to a 2006 "Pharmacy Times" article. The information is beneficial when an overdose occurs, for example, and when someone wants to ensure she received a medication that was prescribed.

Benefits
Identifying medications has taken on new meaning with the increased incidence of children taking drugs to school. Children obtain drugs from many sources, mostly by stealing from family members or trading with friends. Many teachers, school administrators, police officers and parents have found themselves with pills to identify. The information also can help inform an emergency medical technician who is called to a scene involving a drug.

Identification Methods
Many websites can be used free of charge to identify a pill. After information such as the pill's shape, color or size is typed in, the website displays a picture and drug identification. A pill's number and name or symbol also may be needed. A few websites that can be used to identify drugs are linked in the References section.
Besides using the Internet, drug identification inquiries can be directed to the FDA's Division of Drug Information via telephone at 888-INFOFDA (888-463-6332), via fax at 301-827-4577 or via e-mail at druginfo@cder.fda.gov.

Data Collection
The process for collecting drug imprint information has changed "from a voluntary, unregulated, paper system in the mid 1980s to a state-of-the-art, comprehensive and accessible database today," the "Pharmacy Times" article states.
A standard method for collecting imprint data does not exist, according to the article, and "the FDA does not evaluate or approve imprint codes."