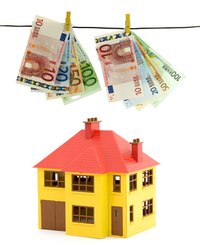 HUD is the commonly used name for the U.S. Department of Housing and Urban Development. HUD offers low-cost homes and grants to help families get adequate housing. FHA, or the Federal Housing Administration, is a division of HUD that provides mortgage insurance for loans on single-family homes that are the primary residences for eligible families.
HUD History
HUD got it's start in 1937 when the U.S. Housing Act was passed. In 1967, HUD was turned into a cabinet-level agency. In the following years, HUD has been responsible for the passing of legislation such as the Fair Housing Act, the Housing Community and Development Act and the Housing and Urban-Rural Recovery Act. HUD has had 14 secretaries since it became a cabinet-level agency. The current HUD secretary is Shaun Donovan, who was appointed by President Barack Obama on January 29, 2009.

HUD Departments
HUD runs several programs for community development and housing assistance. HUD's assorted community planning and development programs offer funding for affordable housing projects, Section 8 rehabilitation programs, shelters and economic development. The Office of Fair Housing and Equal Opportunity is a division of HUD that prevents discrimination against people trying to obtain housing assistance. HUD also offers mortgage insurance on loans for building health care facilities and housing counseling classes.
HUD Grants
HUD offers grants for several different groups and uses. Certain communities, small towns and states can apply for grants for community and economic development, as well as grants for building emergency shelters. HUD's website has a page for keeping people updated on grants as funds come available, as well as who is eligible for and how to apply for grants.

HUD Help With Buying a Home
HUD has a page on its website that is dedicated to helping home buyers with the entire process of finding and buying a home. The page includes tools for finding out how much people can afford for a mortgage payment, shopping for the best loan (including FHA loans) and finding a home through MLS listings and HUD databases. There are also tutorials available on the rights of prospective home buyers, avoiding predatory lenders and getting home inspections.
About FHA
The FHAs primary function is to offer mortgage insurance to approved lenders on behalf of home buyers. Lenders require mortgage insurance on loans with a down payment of less than 20 percent of the loan value. When home buyers get an FHA-approved loan, the FHA pays the mortgage insurance for them, guaranteeing to lenders that the loan will be paid even if the home buyer defaults on the loan. FHA mortgages often have lower interest rates than conventional mortgages and are available to people purchasing single family and multifamily homes that will be the homeowner's primary residence.