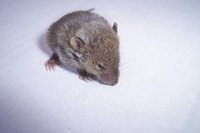 When kept as pets, mice are relatively low-maintenance animals, but they can sustain injuries just like any other species. While most wounds in pet mice can heal with little intervention from you, others may require your assistance or professional assistance from a veterinarian in order to help them heal properly.
Causes
Some causes for wounds in pet mice are more common than others. When multiple mice of the same gender are housed together, fights can erupt that cause injuries. Mice may both bite and scratch in aggression or defense, causing wounds. Mice can also sustain wounds while playing or interacting in wire cages, especially when there are exposed to sharp edges that can cut their feet or otherwise injure them.
Diagnosis
The diagnosis of a wound typically begins with the sight of blood on the mouse. If you see blood on a mouse, check all mice in the enclosure for injuries. Even small wounds can produce a substantial amount of blood, so check each mouse carefully for wounds. Once you determine which mouse is injured, the next step is to determine whether you can treat the wound yourself or require veterinary assistance to address the injury.
Pain Level
Determining how much pain the mouse is in can tell you about the condition of the wound. A mouse in significant pain will not appear alert and will engage in abnormal postures or movements. Pain from a wound can cause shock, which may appear in conjunction with dehydration, loss of appetite, guarding reaction, vocalization when palpated, self-mutilation, lethargy, and restlessness. When the mouse seems to be affected in this manner by the injury, veterinary intervention is the best course of action.
Home Care
Clean the wound with a damp cotton swab or cotton ball to assess the extent of the injury. If the wound is still bleeding, apply pressure with gauze or a cotton ball until the bleeding stops. Separate the injured mouse from other cage mates and provide ample food and water. If the injury is more severe, provide the injured mouse with a smaller enclosure lined with newspaper and keep in a warm place with protein-rich food and plenty of water. Keep close watch on the injury and watch for signs of shock or stress during the healing process.
Veterinary Intervention
Veterinary intervention may become necessary if the wound is serious or if the mouse goes into shock. Some injured mice can refuse to eat or drink which further complicates the injury by slowing the recovery process. Look for a veterinarian in your area that has exotic pet experience as not every general veterinarian has experience with small animals like mice. If signs of shock are apparent or if the wound continues to bleed, you should seek veterinary help immediately.