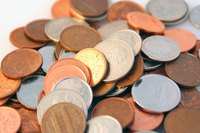 Socioeconomic status plays an important factor in how you experience quality of life. A 2006 report from the European Foundation for the Improvement of Living and Work Conditions titled "Quality of Life" states that "24 out of the 28 countries, income is ranked the most important factor likely to improve the current quality of life." Income, education and occupation determine your socioeconomic status. Education and occupation often determine income. Your income, more than the other factors, is the basis of your socioeconomic classification.
Low-Income Economies
The World Bank measures low income by economic strength or weakness of a country based on the country's GNI per capita. GNI (Gross National Income) is the average of what a country's citizens earn in a year's time. World Bank classifies low-income economies as $975 or less GNI per capita. In "Sociology in Our Times," Diana Kendall writes that "about half the world's population lives in sixty-one low-income economies, where most people engage in agricultural pursuits, reside in non urban areas, and are impoverished."
Household Income Calculation
The U.S. Census Bureau uses income to determine whether or not a household is above or below the poverty line. By their definition, income is "money income received (exclusive of certain money receipts such as capital gains) before payments for personal income taxes, social security, union dues, medicare deductions, etc" . They have no official definition of low-income. However, the National Center for Children in Poverty says that families that earn less than 200 percent of the poverty guidelines are considered low income.
Poverty
Poverty is determined by the number of people in a household, income before taxes and living expenses in the local economy. All the members of that household are considered living in poverty. Benefits received from local and state governments is not included in determining poverty level. Poverty level is the minimum income earnings a family can make to pay for the basic necessities of life such as food, water and shelter.
Low-income Jobs
Low-income jobs are those that barely allow an individual to pay for basic consumption. Basic consumption is the ability to pay for housing, transportation, healthcare and groceries. In a paper entitled "Understanding Low-wage Work in the United States" Heather Boushey and Shawn Fremstad define a low-income job as "one paying less than two-thirds of the median wage--$11.11 per hour or less."
Expert Insight
The inability to save money perpetuates the problems. In "Building Assets, Building Credit," Nicolas Paul Retsinas and Eric S. Belsky write "Low-income families find it difficult simply to make ends meet each month and lack access to short-term credit at a reasonable cost to smooth out earnings." An article in "UK Telegraph" suggests unreliable transportation to get to work becomes a bigger issue without savings for repairs, which compounds the financial problems.