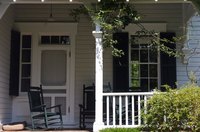 When it comes to getting a mortgage, people go to one of two places—a mortgage company or a bank. Choosing the right place could mean the difference between getting approved and getting rejected, or ending up with loan payments you can afford or payments that are so high you end up going into foreclosure.
Identification
Mortgage companies have mortgage brokers, people who work as a middleman between the banks/lenders and the borrower to get financing for the borrower. Mortgage companies represent a slew of banks and financial institutions, but ultimately, it is the lenders they represent that will make the loan. Bankers work directly with the borrower to provide financing.
Payment
Mortgage brokers don't get paid anything if they don't close the loan. They are paid by the lender, according to Bankrate.com They work completely on commission, so it is in their best interest to get you approved at a rate you can afford. Bank loan officers receive a salary, although they might also get commissions. They can make loans based only on the terms and conditions of their institution. Therefore, if you are a borrower who might have a hard time qualifying for a mortgage due to bad credit history, a mortgage company may be a better option for you.
Options and Service
Mortgage companies will offer you a lot of loan options because brokers already have a lot of contacts at many different banks and lenders, saving you the hassle of having to contact each lender yourself. Mortgage companies also usually have longstanding relationships with lenders, so they can use that relationship to negotiate the best deals for you. You might get more personalized service because a broker can come right to your front door to discuss a mortgage deal with you. With banks, you might have to attend meetings in a corporate bank setting before you get approved.
Atmosphere
Banks are usually part of corporations. Mortgage companies can be anything from a large corporate office to small mom-and-pop shops, according to Bankrate.com. If something goes wrong with a small mortgage company, you may have no one else to turn to. However, if you have an issue with the bank, you can always go up the corporate ladder to get a manager involved.
Considerations
The majority of people find that they get the best mortgage deal with mortgage brokers, according to Bankrate.com. Approximately 60 percent of home loans start with a mortgage broker at a mortgage company. However, it may still be a good idea to shop around. Many people take a mortgage company's rate to their bank to see if the bank can beat it, and many times it will, according to Bankrate.com. Feel free to compare the rates of different mortgage brokers and also different banks to see who has the best rate.