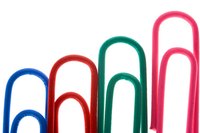 Paper clips are one of the most ubiquitous office supplies in America today. Rarely does anyone ever consider that such an unassuming product has a rich, century-long history. Paper clips have undergone many designs and have stood for many things, but most people just know them for their ability to bind together paper or to be uncoiled for poking small buttons on electronic devices. However, there is more to paper clips than meets the eye.
History
The first paper clips to be made out of bent wire were made and patented by Samuel B. Fay in 1867. Many people, including Fay and Erlman J. Wright, produced paper clip designs that were mostly advertised to perform other tasks, such as fastening newspapers together or fastening tickets to fabric. Before this, pins had been stuck through paper to keep items together, leaving holes in the finished documents.
Diversity of Design
Originally, there were many different designs for paperclips due to the large number of patent designs that prohibited individuals from using the more common and famous modern paper clip curl. Thus, different paper clip designs claimed that they could hold "a thick set of papers," "take less space of files" or "require less postage" because they did not weigh as much as the competitors' paper clips.
Modern Paper Clip Design
The first paper clip to have the modern design most prevalent today was patented on November 9, 1899, to William D. Middlebrook of Waterbury, Connecticut. Middlebrook also designed the machine that made his paperclip. Later that year, this paper clip was given the trademarked name of "Gem." The initial design underwent a few changes, such as rounding sharp edges to prevent tears, before becoming the best-selling paper clip in the world in 1907.
Connection to World War II
During World War II, Norwegians (who consider the paper clip a national symbol) wore paper clips to symbolize their resistance to Nazism and to the anti-Semitic doctrine that the Nazi's espoused. However, paper clips were not only associated with the resistance of Nazis. After World War II, the United States Office of Strategic Services began Operation Paperclip as an effort to recruit scientists from Nazi Germany to work in the United States.
One Red Paper Clip
On July 12, 2005, Kyle MacDonald started a blog with the goal of trading one red paper clip for other items until he could acquire a house through trading. On July 12, 2006, the town of Kipling, Saskatchewan, made the 14th and final trade, giving MacDonald his house and a key to the town. Items traded for the red paper clip included a fish pen, a Coleman stove and an afternoon with Alice Cooper.