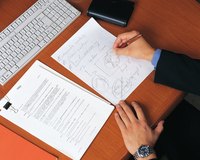 Perhaps you've heard the expression "Failure to plan is a plan for failure." Nowhere else does this saying ring true as much as it does in the business world. Proper business planning can launch your organization while a lack thereof could doom your organization to failure. A clear, concise and realistic plan can act as a road map to success for your organization, and there are many advantages to such planning.
Allocating Resources
It's an unfortunate fact of life that resources simply aren't unlimited. Proper planning allows an organization to budget and allocate resources. Planning resource allocation can reduce shrinkage (lost resources) and costs by using only what is needed for a certain task. Any smart business person can tell you that it's smart to budget your money; resources are no different, and properly doing so could increase productivity.
Setting Goals
Goals are one of the single most important aspects of business planning. When an organization has clearly set and defined goals, then it's easier for management to track progress and reach these goals. A business that is constantly setting, reaching for and achieving goals is likely to continually grow and evolve, something important for a business to stay competitive. Providing rewards and prizes for employees who most help the company reach its goals can improve morale, teamwork and productivity within the organization.
Risk Management
Proper planning can help an organization manage risk and any uncertainty. Uncertainty and risk could spell disaster for a fragile organization, which is why understanding and planning for these inevitable aspects of business are important. Proper planning will take all the "what-ifs" into account, therefore lowering an organization's chances of being caught off-guard by an unforeseen circumstance, debt or problem. Planning also allows you to take a step back and see what the reoccurring problems and risks are and how to best deal with them.
The Competitive Advantage
Proper and thorough planning can show an organization where its strengths and weaknesses lie. If a business knows what it is and is not good at, then it has a clear understanding of what needs improvement. Such planning can also illuminate holes in the competition's business that your organization can exploit to gain an advantage. If an organization is constantly aware of its own weaknesses, then it's harder for competitors to take advantage of them because you'll know exactly what they are, and you'll be paying attention to and improving them.
A Business Plan
While precise planning can clearly help an organization reach new heights, having an actual business plan will help the organization soar. A business plan is simply a formal document that outlines the business' goals and how it plans to reach them. Lenders and investors are more likely to lend to or invest in a company with clear goals and well thought out plans than a business with less comprehensive plans.