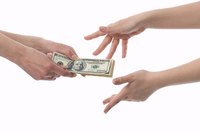 In case you've ever wondered how you could recover old money left in a closed bank account or overpaid to a company or utility, there is an answer. States nationwide require financial institutions to abide by laws that require such funds to be transmitted to government agencies for reclaiming by rightful owners. The problem, however, tends to be that people aren't aware of where the money is sitting or how to get it.
Types of Unclaimed Funds
Unclaimed funds tend to be financial assets and money left by an owner who can no longer be contacted. Financial institutions must go through various processes to make sure the money can be classified as abandoned before turning it over to a given state government. Unclaimed amounts frequently include deposit balances, overpayments, refunds, dividends, forgotten savings or checking account balances, paychecks, stock or mutual fund certificates, and outstanding payments.
Cause
When people move to a new location, forgetting an old account, a pending transaction, or an asset placed in a security box a long time ago, the financial institution that holds the asset must make a number of attempts to contact the owner before doing anything with the account or property. Once these thresholds of action have been met, then the institution reports the unclaimed property to the state and eventually transfers the monies or items to the state controller's office or similar agency.
State Government Involvement
State governments, usually the given state's controller office, have a programs that receive and manage unclaimed funds. These monies are turned over by banks, utilities, businesses, and other financial institutions. A classic example may be when a child opens a kid's savings account and forgets about it. The bank closes the account after years of inactivity and inability to locate the child's parent. Eventually the bank is then required to turn over the funds to the state where they sit until claimed by the owner.
Paid Property Search Firms and Funds Recovery
People can find out on their own if they have unclaimed funds being held by a given state, but many don't know where to look or who to call. State governments all have Web pages describing the process, but communication is harder for those without computers.
To fill this gap, companies have been established that proactively search state databases to identify property. They then match this information with local mailing addresses and names to send out mailers. The mailer offers the company's service to secure the property for the recipient for a fee. The fact that people can do the same activity themselves at no charge tends to be omitted.
Misconceptions
The management of unclaimed funds does not involve the federal government, though that's a common misconception. There is no federal office or program that manages this issue on a nationwide level. As a result, unclaimed funds and there treatment will vary from state to state depending on local laws and processes. Recovery programs also vary for the same reason.
Some people also believe they may owe taxes if they claim their funds. This is very unlikely unless the funds involve a payment that would be considered income. Most of the time unclaimed funds are from accounts that were established in post-tax status--that is, any taxes due were paid prior to deposit. Outstanding payments and dividends are the notable two exception categories, since the payor would have reported the amounts to tax agencies as new income to the recipient. The recipient then has the job of figuring out if he already reported the funds earned on an old related W-2 used for income taxes or if income taxes were never reported.
Claiming Funds
The easiest way to recover unclaimed funds is to go to the state's website related to where the old account last was. Many states provide a search engine requiring just a first and last name to find unclaimed monies held. Once found, the owner just needs to fill out a related application and provide proof of identification to get paid. Some states may require a notary certification if the application is sent in the mail.