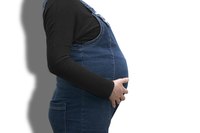 Some pregnancy decisions are simple and fun, like picking a baby name or what color to paint the nursery. But choosing between an HMO and PPO health insurance plan to pay for medical care during the pregnancy and delivery may seem intimidating, especially if you're unfamiliar with insurance policy technical jargon.
There are some basic differences between an HMO and PPO, and individuals must decide for themselves which works best for their situation. HMO plans and PPO plans both have advantages and disadvantages.
Major Differences
In general, individuals insured under HMO plans must visit facilities, physicians and specialists working under their HMO umbrella. Monthly premiums may be slightly higher, but out-of-pocket costs, including costs for pregnancies, are often lower.
By contrast, individuals insured under PPO plans have greater choice in which facilities, physicians and specialists they may visit. Premiums may be slightly lower, but out-of-pocket costs, including costs for pregnancies, are often higher.
HMO Advantages
Pregnant families may find the "package deal" experience of an HMO health insurance policy less stressful than a PPO policy. HMO health care facilities are frequently housed under one roof, so that a pregnant woman may visit her physician, undergo applicable exams or tests and fill prescriptions all at once without having to make inconvenient decisions about which clinic to visit for different pregnancy care requirements.
Since pregnant families will be visiting health care facilities with some frequency throughout the pregnancy, HMO plans may distribute financial obligations more evenly, since slightly higher monthly premiums cover more services.
HMO Disadvantages
Some pregnant families may dislike the more restricted array of health care professionals available under HMO plans. A preferred family doctor or specialist–for example, the doctor who long ago delivered the now-expecting mother or father–may not be covered by the HMO plan.
The cumbersome nature of HMO bureaucracy can be a frustration for pregnant families. Should a slight pregnancy concern crop up, there is no guarantee that the pregnant mother will be immediately referred to the field's top specialist until the problem becomes more serious.
PPO Advantages
Pregnant families seeking the best care possible, or who demand more freedom in hand-selecting health care professionals who will guide the pregnancy, may prefer a PPO health care plan. In many cases, expecting parents can go straight to their preferred specialist without having to make multiple visits to a primary care physician.
PPO physicians may also have more control over medical decision-making, since they don't operate directly beneath the guidelines of a powerful HMO.
PPO Disadvantages
PPO health care plans may cost pregnant families more money over the long run. While monthly premiums are lower, regular doctor visits add up and one-time events–such as delivering a baby–can be quite costly, since insured families will have to meet a sometimes-high deductible before significant coverage kicks in.
Expecting parents may also feel overwhelmed in playing such a large decision-making role in selecting primary care physicians, specialists, pharmacies and facilities.