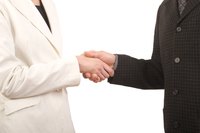 To achieve customer satisfaction depends on employee customer service behavior. For a company to differentiate itself from others, in a competitive service environment is to provide excellent customer service. To provide excellent customer service in a telephone situation is one method, to provide customer service in a face-to-face situation, this could present a challenge. The interaction with your customer will make the difference if they continue doing business with you.
Acknowledge Your Customer
Acknowledge the customer and indicate your willingness to help in a friendly manner. Each time you greet a customer, modulate your tone of voice and pitch. If you can't help the customer immediately, it's still critical to acknowledge him. On a call, answer the call right away, and do not let the customer be placed on hold for too long.

Affirm your Understanding
After you assess your customer's problem, affirm your understanding. This will allow the customer to add information that he did not mention. This will diffuse any negative emotions the customer feels, and will allow you to proceed in a constructive manner.

Listen to the Customer
Listen to the customer's complaint without interrupting. If you are familiar with the complaint, let the customer finish what he has to say. The customer feels better when she knows she can vent her anger freely. After the customer vents his anger, you can offer solutions to the problem. There is nothing worse than asking an irate customer to repeat what he has just said.

Empathize With the Customer
Develop empathy for the customer. Put yourself in your customer's shoes and think from your customer's perspective. Customers want to know you appreciate them and their business. When your customer has a problem with your product or service, make an effort to assure them that you understand and plan to take action. Customers have many choices these days where to purchase their product or obtain a service.

Stay Calm
When a customer talks in a loud tone, and is irate, do not respond with the same tone. Stay calm and polite. When you stay calm and speak in a monotone voice, the customer usually brings his tone down. You do not want the situation to escalate. It is your job to listen to the customer's complaint. However, it is not acceptable to be verbally abused. Remain professional, even when asking a customer to stop behaving in a particular manner.

Thank the Customer
At the end of each interaction, thank the customer. Always conclude a conversation with a "Thank you" or a verbal message of appreciation for their business.

Positive Approach
Approach the customer with "what" you can do for them. Don't start your conversation with a negative response, by saying what you "can't" do for them.