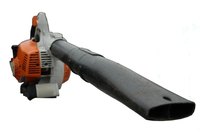 Leaf blowers are useful and versatile tools. Besides blowing away autumn leaves, gas- and electric-powered leaf blowers can clear away snow and blow debris from a driveway or sidewalk. Buyers must choose the right type of leaf blower for their particular needs and budget.
Uses
Gas leaf blowers are more powerful than electric models. This makes them more versatile, both in terms of how far they can blow leaves and how many other tasks they can perform. A gas leaf blower may be able to remove snow from a sidewalk or driveway. In addition, gas leaf blowers are better tools for cleaning gutters or making mulch due to their added power.
Mobility
Electric leaf blowers also lack mobility. A user can only work as far as an extension cord will reach, making electric leaf blowers more suitable for smaller yards. Gas-powered leaf blowers give the user complete mobility and remove the need to use an extension cord, though keeping a small can of gasoline on hand is a good idea for quick refueling.
Weight
Gas leaf blowers weigh substantially more than electric models. Part of this added weight comes from the fuel tank and lightens as the leaf blower consumes gas, but the majority of its bulk comes from the gas motor itself. The lightweight electric motors that power electric leaf blowers are lighter and electric leaf blowers are thus easier to handle for extended periods.
Exhaust and Noise
While electric models produce no emissions, gas-powered models continuously emit harmful carbon monoxide. This can be uncomfortable and even dangerous if inhaled, and it contributes to carbon emissions.
Gas-powered leaf blowers are also much louder. This comes from the noise that gas motors produce compared to the relatively low noise levels of an electric motor. While ear protection is a good idea when using both types of leaf blowers, it is a must with gas-powered blowers.
Cost
Gas-powered leaf blowers are significantly more expensive than electric models, making the gas-powered models suitable for users who need mobility or require a high-powered machine. As of 2010, all but the most expensive electric leaf blower models cost less than $100. Comparable gas-powered leaf blowers often exceed $400.