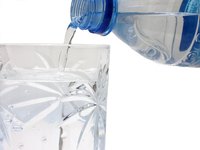 Water is an essential part of the human diet. Not only does water make up 60 percent of our body's weight, it also helps to flush out toxins, transport nutrients to cells and keeps our body hydrated so that it can function appropriately. Besides just drinking water, there are many water-based foods that can be incorporated into the diet to help fulfill the daily requirement.
History
Throughout history people have been aware of the importance of water in the human diet. Various methods were practiced to purify water. Early humans, for instance, determined the purity of water by the way it tasted. They didn't know that regardless of the taste, water could still have disease-causing organisms in it.
Historical evidence shows that people went through various measures to assure the freshness of drinking water. Sanskrit writings from 2000 B.C. suggest that people were already boiling water to purify it. Other ways they heated the water was by placing it in the sun or by placing a heated iron into it. This quest for pure water led to the water purification methods we know today.
Benefits
Water can come in the form of various liquids or water-based foods. One of the benefits of incorporating these into the diet is weight loss. Water-based foods tend to be low in calories and high in fiber which stimulates digestion. They make you feel full quicker which will prevent you from eating other unhealthy alternatives. Another benefit of water in diets is that it clears up the complexion by flushing out impurities in the skin. Hydrated skin cells will prevent skin from sagging and hydrated muscles tend to make workouts more effective.

Water Consumption
Doctors recommend that people drink eight cups of 8 fluid oz. of water per day. However, everyone has different needs. Some people perspire more than others because they are more active; these people will need to hydrate themselves more frequently than those who are less active. Even if you are not active, you still lose fluids through urinating, breathing, sweating and bowel movements. These lost fluids should be replenished to prevent a sluggish, tired feeling. You can do this with the help of water and water-based foods.
Misconceptions
Drinking eight cups of water daily may sound like a lot. However, many people forget that they can spread out the cups they drink throughout the day and other beverages like herbal teas, broths and flavored waters are also considered sufficient. Some people choose to drink cold water over warm because the stomach absorbs it faster and it's also said to burn fat. However, warmer water is easier to consume in large quantities. A good way to see if your water intake is sufficient is by looking at the color of your urine. If it is clear or light yellow, you are on the right track.
Water-Based Food Choices
To supplement your water intake, you can also use water-based foods. There are many water-based fruits and vegetables to choose from. Water-based vegetables include lettuce, celery, broccoli, peppers, squash and cucumbers. Water-based fruits include watermelon, pineapple, oranges, peaches, tomatoes, kiwi fruit, berries and apples.
Considerations
If you are thinking about adjusting your diet, make sure to consult with your doctor. He can go over your current diet and see how it can be adjusted to meet the recommended water intake.