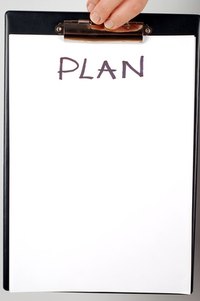 Crisis occurs when critical events threaten a company's reputation or causes a disturbance in an organization or community. Creating an effective crisis communication plan requires a sensitive approach to the public and stakeholders.
Companies can use public relations personnel to construct a crisis communication plan. However, this is not the case for all organizations. Government and non-government organizations can delegate a communication task force to handle distribution of information during emergency events, such as weather evacuations or violent attacks. Small- to mid-size businesses might not be able to afford public relations teams or firms, but can incorporate these strategies in their business plans.
Prepare a Strategy
You wouldn't wait until a fire broke out to tell your employees about the evacuation plan. Effective crisis communication also requires preparation with clear instructions, strategies and procedures before an occurrence. Training executives for public presentations, keeping staff current on media protocol and building rapport with key organizations are all proactive strategies designed to handle situations with a beneficial outcome. Partnerships with key organizations can include non-profit agencies such as the chamber of commerce, industry associations and community outreach centers.
Handling Requests for Information
At the onset of a crisis, assign and guide personnel to properly handle inquiries from the media, employees/partners and consumers. Media directors should immediately post a proactive message to online forums. Initial messages should state that the crisis is being investigated and media personnel will be notified with a statement within a certain period of time. This message should be consistent whether the requests are handled by phone, fax, social media, on-site interviews or other means of communication.
If critical events have or can become publicly known, share key messages with employees as quickly as possible. The entire staff should be alerted, prepared and ready to serve as advocates for the company.
Fact Finding
Collect all the facts about the incident or crisis. Determine if the crisis is due to company negligence or an affiliation with an event. Obtain witnesses and statements, if necessary. This shapes the tone of the message and helps guide decisions toward a resolution.
Crisis Resolution
Meet with legal counsel and company executives to determine how the crisis will be effectively reconciled and communicated. If the crisis cannot be resolved within a few hours of the first public announcement, designate an action plan for resolution. This meeting should establish which information should be released to the public.
Spokesperson Delegation
Designate a chief spokesperson to effectively communicate with the stakeholders involved. The spokesperson should have a relationship with or understand the people they address. For example, if there is an economic or financial crisis, the Chief Financial Officer should be designated as spokesperson to address the investment community.
It is acceptable to have more than one spokesperson. Keep in mind that spokespersons do not always have to be public orators. They can be writers as well. Company bloggers, for instance, can serve as grassroots level spokespersons reaching multiple audiences.
Design and Deliver Statements
Design key messages to address specific audiences. Effective crisis communication statements should be clear, direct, relevant and brief. Highlight three to five key messages in the statement and distribute them to appropriate channels. The specific channels of communication depend on the audience. For example, if the incident affects college students, post the message on social media forums, broadcast text messages and distribute email updates about the crisis.
Key messages should at least include a statement of regret, empathy or apology, an explanation of the crisis, and the action plan or resolution. It is your responsibility to know key factors about your audience; where they look for information, what is important to them and their cultural nuances.
Follow-up
Use marketing and advertising messages to demonstrate improvements that reflect good decisions toward the proposed resolution. Also include a series of timely, follow-up messages about the progress of the resolution.