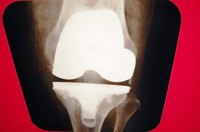 Subluxations and dislocations of joints can happen to anyone, especially athletes. Although these injuries are similar, the severity and intensity can vary between the two. Being able to identify the location and cause of the injury and seeking treatment promptly are important when dealing with these kinds of trauma. Taking special precautions can also help prevent further injury.
Subluxation
A subluxation occurs when the joint only comes out of place partially and goes back into place. Usually this relocation will happen naturally right after the trauma or the injured individual can move the affected area to move it back into place. This is less traumatic and lower in severity than a dislocation.
Dislocation
A dislocation happens when ball portion of the joint comes out completely from its socket. This type of injury usually requires medical attention to get the joint back into the proper place. This is more severe, more painful and requires more treatment than a subluxation.
Locations Affected
Joints such as the shoulder and knee are most often the location of such injuries. The ball of the joint moves forward or backwards out from the socket in these types of injures, usually about one inch from its normal position. The majority of the time it moves forward, towards the anterior of the joint.
Symptoms
Subluxations and dislocations are very painful. An affected individual may experience weakness, tingling or partial numbness of the affected area and the immediately surround areas. If the shoulder is injured, numbness can occur in the shoulder, arm and hand. When the joint goes back into place, the pain lowers in intensity dramatically.
Cause
Significant trauma usually causes these types of injuries. Overstretching and being forced out of position, such as being tackled during football, repetitive throwing of a baseball or automobile accidents can cause these injuries. When these joints are traumatized, it also affects the ligaments in that area. The injury can tear, stretch or elongate the ligaments, therefore recurrence is very likely if you have suffered this type of injury before.
Treatment
X-rays and a physical exam are done with this type of injury. Sometimes a Magnetic Resonance Imaging (MRI) is performed as well. Since this injury is painful, it is a possibility that the physical exam is done under anesthesia to find the correct location of trauma. Relocation of the affected area may be necessary to put it back into place. If treatment is sought after the first occurrence of the dislocation or subluxation and it is immobilized for 3 to 6 weeks, it may be possible to lower your risk of recurrence. Muscle strengthening exercises and modifying certain activities may also be part of the treatment plan. Surgery on the affected area is also a possibility.