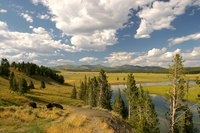 National Parks are an American treasure, and one of the best ways to experience them is by camping on-site in an RV. Step out of the camper in the morning to find yourself already surrounded by majestic scenery. Take advantage of day trips and adventures, all close at hand, before returning to your RV to rest.
Advantages
Traveling to a National Park for a camping trip can be very rewarding. Campers can experience staying overnight in these protected lands. Besides the natural surroundings, there are a few other advantages to camping in a National Park. They tend to be less expensive than private campgrounds, but many still offer additional services. These may include water and sewer hook ups, dump stations, showers, and potable water.
Reservations
National Parks campgrounds have a website that allows campers to search parks by availability and facility services. You can customize a search based on length allowances, the availability and size of electric hook up, and the presence of water or sewer hook ups. Some parks, like the popular Yosemite National Park, allow reservations to be made a few months in advance, and will fill the first day reservations are allowed. Not all campgrounds permit reservations, but take RVs on a first-come, first-served basis. These often fill up quickly during the park's main season. RV campers should plan on arriving at these parks early to get a site.
Campground Restrictions
RV camping in National Parks offers a good balance between camping in nature and having a few comforts available, but there are some restrictions of which campers should be aware. Many campgrounds limit the length of RVs. This varies by campground, and is set so campers can adequately fit in the sites and maneuver through the campground. Stays are often limited to two weeks or less, preventing campers from remaining in one site for too long. It is prudent to always check a campground's rules and regulations before you arrive.
Nearby activities
One of the greatest benefits of camping in a National Park is the availability of nearby activities. By using a bicycle or park shuttle service travelers can explore the park while leaving the RV set up at camp. For example, Glacier National Park offers tours of the Going-to-the-Sun road from one of their environmentally friendly shuttles. Besides the standard trails and tours, many parks also have special events throughout the year. These may include lectures, wildlife viewing opportunities, or family activities.
Popular National Parks for Camping
There are more than 30 National Parks that allow RV camping. Yosemite National Park, with its illustrious waterfalls and giant sequoias, is the most popular at 212,000 overnight RV stays in 2009. Other favorites for RV campers include the Great Smoky Mountains National Park, Grand Canyon National Park, Glacier National Park, and Death Valley National Park. Each park offers a distinct experience for campers, from desert settings to glacial backdrops.