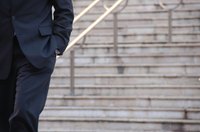 The moment you walk into a room, you begin to communicate through posture, movement and facial expression. In business, communication skills can make or break a deal. From the way you sit to the way to move your hands, every part of your body should instill confidence in a client.
Types
Body language in business begins with posture while standing. Standing with your shoulders back, stomach in and feet about six inches apart are some elements of good posture. Entering a room with an air of confidence and a sense of being grounded gives the impression of strength. In American business transactions, a firm handshake with eye contact is polite, but other cultures may not be as keen on this form of greeting. For example, in Singapore hierarchy is important; you and your colleagues should enter the meeting room with the most senior official first, the second should follow and so on.
Function
Awareness of body language in business settings is essential for making a lasting impression on colleagues and clients alike. Standing too close to a person could make you appear pushy, which may discourage a client from working with you. Standing too far away could make you seem distant, which may also lead to a client to go with a competitor. Body language functions as a tool for business people to communicate their level of success and self-assurance without saying a word.
Features
Some features of body language in business are eye contact, facial expression, body posture and movement. Egregious hand movement can make you appear immature or nervous. In some cultures, it is considered rude to hide your hands from view while having a business meeting. Leaning forward while seated lets a client know you are interested in what they are saying, while leaning back in your chair shows impatience. Smiling and making eye contact are easy ways to make a good impression, but doing this while playing with your hair could be construed as flirtatious.

Expert Insight
Business etiquette expert Lydia Ramsey says, "When your words don't match the signals that your body is sending, others will believe what they see more than what they hear. Understanding body language will enhance your professionalism." First impressions are created by how you physically present yourself to others. A strong grasp of body language signals will help any business person prosper.
Effects
The effect body language has within business is immeasurable. Poor body awareness can cause behaviors that breed mistrust in clients. The knowledge of body language skills can help a business person create lasting relationships that will help him sustain success. Honing nonverbal communication skills can secure that big break for a business person just entering the field.