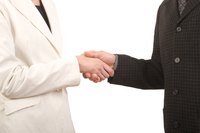 An executive recruiter provides a unique service to employers. They help take the guesswork and effort out of the recruiting and selection process by sourcing and interviewing candidates for difficult to fill positions. Before the recruiting process begins, it is important to have a thorough fee agreement in place that outlines the terms of service, the fees, and any guarantees.
Fee Structure
Typically, executive recruiters are contracted by an employer on a contingency or retained fee structure. The contingency fee structure is similar to a commisioned based pay. The recruiter sets a percentage rate, and the final fee is based on the new hire's first year salary. For example, if the company offers the new hire a $40,000 salary and the recruiters rate is 2 percent, the final amount due would be $8,000. Retained fee structures are a benefit to both the recruiter and the client. A retainer agreement allows for a set price to be paid at the onset of the search. This is beneficial for the recruiter as they have exclusivity to the opening, while the company typically benefits from a reduced price.
Recruiting Process
The recruiting process should be clearly outlined in the fee agreement to avoid unwelcome surprises. The agreement should include the methods in which the recruiter will source candidates, as well as any pre-screening requirements such as background or drug tests. If there are preferred sources from which the recruiter should source candidates or companies they need to avoid, this should be outlined in the agreement as well.
Time Line
The time line of the search is an often neglected point that can cause delays in the recruiting process. The time line should consist of two parts. The first part should document the recruiter's estimated time of completion, while the second part should detail the hiring process and time line from the point a resume is received until the employment offer is made. Many great candidates are lost to stalling tactics, and having these details in your fee agreement helps ensure timely completion of the project.
Guarantee
Even the most thorough recruiting and selection process can occasionally result in a hiring mistake. Often a newly hired employee will accept a counter-offer and return to work for their previous employer, or the client will decide the employee is not who they expected them to be once they are on the job. To protect the client, a reputable recruiter will offer a guarantee. Placement guarantees are traditionally handled in the form of a replacement or refund of the fee paid by the client. It is not unusual for the refund to be prorated by the number of days the employee stayed on the job.
Addendums
If at any point during the recruitment and selection process additional changes, terms, or restrictions are agreed upon, an addendum to the original contract should be made. These changes should be clearly listed and the document signed by both parties to avoid complications.