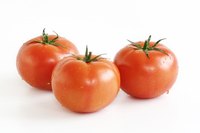 Ever since hydroponics became a part of our vocabulary in the late 1930s, the average person on the street probably has one main impression about the subject: Since it's so complicated and scientific, it probably works really well for growing any plant all of the time, if you know what you're doing. This impression is not particularly true. There are a number of disadvantages of using hydroponics for commercial crops.
History
Modern hydroponics as we know it began in the late 1930s through the work of professor William Frederick Gericke of the University of California at Berkeley, though the principles of hydroponics were first worked out in the 17th century by Sir Francis Bacon. Gericke's 1940 book, "Complete Guide to Soilless Gardening," became a classic in the field. Today, hydroponically grown produce and ornamental plants make up a small, but significant, percentage of the crops produced worldwide.
The Land Pavilion at Walt Disney World's EPCOT Center opened in 1982 and prominently features a variety of hydroponic techniques. Beginning in the 1990s, the National Aeronautics and Space administration (NASA) performed hydroponics research for the Controlled Ecological Life Support System (CELSS).
Types
Not all types of commercial crops are suitable to be grown hydroponically. Some crops grow on large shrubs or trees, such as blueberries, raspberries and cherries, too large for hydroponic facilities. Other crops, such as spinach and rosemary, have water or nutrient requirements that are impractical for hydroponic growing.
Climate
Hot weather and limited oxygenation may limit production, and can result in lost crops. In areas where this is possible, such as in desert locales, results of hydroponically grown crops are uneven, especially where access to electricity is not dependable to ensure circulation of nutrient water. These limitations can be overcome with more control over the environment, such as building an indoor, climate-controlled operation. But the attendant costs of such a facility in an extreme climate would raise the cost of production too high to ever have hopes of making a significant profit.
Geography
Some regions of the world are just not amenable to hydroponics. Availability of reliable electrical power and an adequate water supply is crucial. Also, the costs associated with transportation of farming supplies to the site and fresh produce to the markets become prohibitive the farther away the hydroponic farming facility is from population centers. Mountainous terrain is also an impediment.
Disease
Waterborne pests and diseases, such as salmonella, can ravage a hydroponics farm much more rapidly and decisively than traditional farms because each plant in a hydroponics system is sharing the exact same nutrient solution. The effects of such an outbreak can be limited by splitting the facility's operations into several self-contained "cells," but this increases initial setup and operating costs to help prevent an event that may or may not happen.
Maintenance
The operating parameters of a hydroponics facility need to be monitored closely, and any monitoring or nutrient-circulation equipment breakdowns need to be repaired and the systems brought back online quickly. Hydroponically grown plants react quickly to changes in the environment; if this change is for the worse, plants will quickly react to it, showing signs of deficiency or trouble within a short period of time.