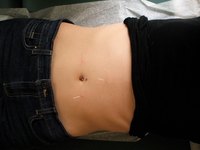 Palpation of the abdomen is basically an exam--using touch--for any tenderness or abnormal masses. Your doctor will likely first examine the abdominal wall gently with her fingertips. According to Clinical Methods, deep palpation of the abdomen is performed by placing the flat of the hand on the abdominal wall and applying firm, steady pressure. You may experience pain when your abdomen is touched, or you may experience rebound tenderness--or pain when the doctor removes the examining hand. Tell your doctor immediately when you experience pain, and it will help to point to the specific area that hurts.
Right Upper Quadrant Pain
Right upper quadrant tenderness may be caused by cholecystitis, gallbladder inflammation; an ulcer; pancreatitis; or hepatitis, according to Clinical Methods. Other causes include additional liver diseases, gastritis, kidney infections, gallbladder disease, Crohn's disease, atypical appendicitis and even constipation. Mononucleosis has been known to cause pain in this area as well. Hiatal hernia also may be considered.
Right Lower Quadrant Pain
Appendicitis should be one of the first suspects on the list for pain in this area. Colon obstruction secondary to colon cancer, diverticulitis, hiatal hernia and ureterolithiasis or ureter stones are common causes of pain in this area, according to the Doctor's Lounge. Crohn's disease could also be the culprit. In women, pelvic inflammatory disease, acute salpingitis or inflammation of the fallopian tube, ectopic pregnancy, ovarian cysts, abscesses and tumors can cause pain in this area.
Left Upper Quadrant Pain
Pain in this area is commonly caused by the spleen. An injury or even a rupture to the spleen can occur. Kidney stones, hepatitis, left bowel inflammation, pancreatitis or stomach ulcers can also cause pain in this area. A more serious cause would be a ruptured or leaking abdominal aortic aneurysm.
Left Lower Quadrant Pain
"Diverticulitis, inflammatory bowel disease, pelvic inflammatory disease, a kidney stone, endometriosis, ectopic pregnancy and rupture of an ovarian cyst are common causes of abdominal pain in this area," according to The Doctor's Lounge.
Other Potential Causes
Peritonitis is inflammation of the peritoneal cavity. There are several causes, the most serious being perforation of the gastrointestinal tract. Other causes include diverticulitis, strangulating intestinal obstruction, pancreatitis, pelvic inflammatory disease and mesenteric ischemia or decreased intestinal blood flow, according to Merck. Pain could be anywhere in the abdomen and possibly spread to other parts of the body depending on the severity of the underlying condition. Peritonitis can be life-threatening.