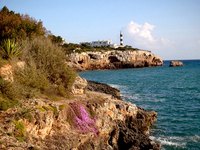 Majorca, Spain's largest island, is part of the Balearic Islands in the Mediterranean Sea. Palma is the capital of Majorca and all of the Balearic Islands. Spanish and Catalan are the two official languages in Majorca. According to Majorca's website, the island has a population of 800,000 with over half the population living in the capital Palma.
Tourism
According to the Lonely Planet, the island of Majorca attracts around 10 million annual visitors, making tourism its chief industry. Many travelers come in search of beaches. Most of Majorca's beaches are on the north and east coasts with some scattered on the south coast. Magalluf Beach, located in Palma Bay, is one of Majorca's more popular beaches. It has white sand, clear water and plenty of entertainment. Many nightclubs open all night are near the beach.
Playa de Palma
Playa de Palma is another popular beach in Palma Bay, located on its north shore. Playa de Palma is a 6-kilometer-long sandy beach with nice hotels alongside it. Playa de Palma's beach huts called Balnearios are well-known for their unique look. Playa de Palma's seaside road is often traffic-free, with a high number of bikers instead of cars. Palma airport, in nearby Playa de Palma, serves as the main entryway onto the island.
Palma's Sites
Palma's pace of life is slower than other large Spanish cities. Palma's historic quarter takes visitors back in time with its old churches, palaces and Renaissance mansions. Inside Palma's historic quarter is the cathedral of Palma, otherwise known as Sa Seu--this huge Gothic temple is constructed on the site of a former mosque. Across from Sa Seu is Almudaina Palace, a former Arab palace that is now a museum. Its architecture resembles an old Arab fortress.
Geography
Despite its popular beaches, the majority of Majorca's coastline is rocky, lined with caves and bays. Two bays, the Badia de Pollenca and the Badia d'Alcudia, cover the northeast side of the island. Palma Bay is in the southwest. Majorca has two major mountain ranges. The Serra de Tramuntana mountains run throughout the northwestern part of Majorca. The highest peak in all of the Balearic Islands, Puig Major (standing at 1,445 meters), is found in the Serra de Tramuntana. The Serra de Llevant, not as steep as the Serra de Tramuntana, is Majorca's other major mountain range, found on the opposite side of the island in the southeast.
Cycling
Majorca has a warm Mediterranean climate with over 300 days of sunshine every year. Nice weather along with 1,250 kilometers of roads with little automotive traffic and remarkable views make Majorca an ideal destination for cyclists. The island has a good mixture of flat terrain, gentle hills and steep climbs making it suitable for almost all types of rides. The use of the island for training by professional European and American cyclists has added legitimacy to Majorca being a top cycling destination.