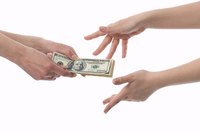 Incentive plans were put in place to reward good performance. There are many types of incentive plans and therefore many reasons why some may not work. Understanding these plans is critical. Behavioral psychologists argue that, for the most part, incentive plans fail because they promote "temporary compliance," and nothing more.
Proft Sharing Plans
Profit sharing plans are tax deferred retirement plans that an employer contributes to on your behalf. Contributions are based on profitability of the company, age of employees, and time with the company. Some reasons this plan may not work are because: young employees get less money and the money is tax deferred until age 59 1/2 or retirement age. There is no immediate reward, or gratification for a job well done.
Yearly Cash Rewards
Yearly cash rewards can be a great incentive. A drawback of this plan is that the reward is distant from the daily responsibilities. This may encourage employees to take it easy most of the year, and turn up the performance near the end of the year when final evaluations are done, and closer to when bonuses will be paid out.
Stock Plans
Stock plans are designed to tie employee objectives to stock price. This plan may be a problem for three main reason. The first reason is that stock plans are generally designed to be deferred for a period of time. It also forces employees to own company stock, which they may or may not want to do. Lastly, if there are events which may make the stock price decrease, such as a stock market correction, employees lose money, even if they did everything properly during the time the stock was deferred.
Team Disruption
Working in a team environment can produce a dynamic place to work. If employees are competing for a bonus it is easy for employees to undermine colleagues, disrupting the team dynamics. It also makes it difficult to get employees to work cooperatively on team projects since everyone is trying to earn the most for themselves.
Considerations
While there are reasons why employee incentives can work, a recent publication by Harvard Business has found that overall incentive plans risk creativity. They can act as a punisher when employees don't receive full rewards. They can also be manipulated by employees and supervisors. Incentive plans should be carefully considered and evaluated whenever they are put in place.