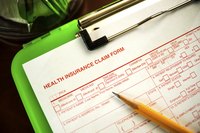 Companies that provide health insurance to their employees usually have two choices. They can buy a health insurance policy to cover their employees, or they can cover their employees' expenses on their own. There are significant differences between the two methods.
Self-Insured
In a self-insured plan, a company accepts much of the risk of insuring its employees, usually paying most of the costs on its own. Because of this, self-insured companies often offer more varieties of plans and may offer different plans to different groups of employees in an effort to control costs. However, most self-insured companies buy stop-loss insurance to limit their exposure to claims. A stop-loss policy kicks in and pays claim amounts above a specific level set in the policy. Many companies that are self-insured hire an insurance company to administer benefits, so to the employees, it may look as though their claims are being paid by an insurer. Large companies are much more likely to be self-insured than small companies, with the Center for American Progress reporting that 93 percent of companies with at least 5,000 employees were self-insured as of 2012.
Fully Insured
Companies that are fully insured pay a health insurance company to take on the risk of paying employee claims. Such plans usually offer the same level of insurance to all employees. The plans are used more often by small employers, with the Employee Benefits Research Institute reporting that 88 percent of companies with less than 200 employees were fully insured as of 2008.