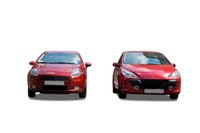 QS-9000 was an automotive industry set of Quality System Requirements as determined by the three biggest automakers in the United States at the time—Ford, Chrysler and General Motors—as well as major truck manufacturers. The developers implemented QS-9000 in 1994. This set of standards replaced individual company quality standards such as Ford's Q-101 and GM's NAO Targets for Excellence. QS-9000 has since been replaced with ISO/TS 16949, a more process-driven set of standards intended to further improve quality processes, according to the Quality Portal website.
What is QS-9000?
The QS-9000 quality management system unified the automotive industry standards for quality. It eliminated varying demands and waste generated by duplicate or redundant systems, according to J. Eric Reed, Trintus T. Smithy and Eyler R. Coates, authors of "Introduction to QS-9000." QS-9000 is sometimes compared (or confused) with ISO 9000, a set of quality standards controlled by the International Organization for Standardization. The two sets of standards do share elements (QS-9000 is based on a set of standards titled ISO 9001). However, QS-9000 adds clauses to many of the parts of ISO 9000, the authors state. For example, QS-9000 requires writing a business plan and tracking customer satisfaction.
Elements of QS-9000
QS-9000 includes three sections: the 20 elements in ISO 9001 and a few automotive-specific requirements; additional system requirements developed by GM, Chrysler and Ford; and customer-specific requirements determined by individual auto and truck-makers. Actual requirements include items like a quality system assessment (QSA), an advanced quality product planning and control plan, and a production part approval process.
QS-9000 Certification
Companies used to have to become certified under QS-9000. Each employee would have responsibilities for documenting compliance. Audits were performed randomly by two different types of auditors: an internal auditor from within the company and an external auditor authorized by the auto industry to certify companies as QS-9000 compliant. Strict and rigid certification requirements resulted in companies reducing waste and improving delivery times among other benefits.
Steps to QS-9000 Certification
According to Siliconfareast.com, some of the fundamental steps toward achieving QS-9000 certification include: 1) Review of the QS-9000 document and collateral material 2) Assembly of team to oversee the certification process 3) Creation of a quality manual 4) Creation of support document for the quality manual 5) Preliminary assessment of quality system (optional)
Transition to TS16949
Since QS-9000 was based on ISO-9001:1994, when that ISO standard became obsolete and was supplanted by ISO-9001:2000, automotive companies began transitioning to ISO/TS16949 after QS-9000 expired in 2003, according to the Quality Portal. One of the main advantages of this standards document is that it applies throughout the automotive supply chain for the first time. Other benefits include improved auditor training and process-based audits emphasizing customer satisfaction.