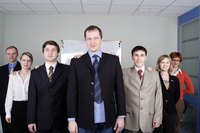 An important aspect of a successful business is effective communication. Communication involves sending messages through different media that promote, explain and demonstrate ideas, products and services. Most organizational structures break a company down into smaller groups. "Groups" may be categorized as departments, company ranking or other businesses involved with making daily decisions. Effective group communication creates satisfied group members, clear vision and productivity.
Types
Business group communication manifests itself in three ways: group to group, group to management and group to individual. Group-to-group communication is also considered inter-department communication. For example, the sales department may communicate a refund policy, but the refund department needs to follow up with the request. Group-to-management is when the group sends messages to supervisors about concerns, desires or wants. Group-to-individual communication is when one individual on the group relays a specific issue or idea to the rest of the group.
Objective
The objective of business group communication is to ensure that everyone is on the same page, heading the same direction and is given clear goals. Business group communication crates a bond and unity between two departments or among the members of the group.
Implementation
Various methods and procedures need to be put in place so that each group and group member understands how to send and receive messages. For example, a company may ask that every email sent from one department to another "cc" the department leader to ensure all communication is seen by more than one person. Other procedures may be a phone script, accountability questions asked daily and customer service policy
Significance
When business group communication is effective, it produces a positive outcome. It promotes a well-defined working environment, clearly defined action steps to improve job productivity and provides an ever-growing working environment. Employees and customers alike feel like they have a voice that is heard. Ineffective business group communication can destroy a business because it leads to frustration, anger and lack of motivation.
Considerations
Every business is different and requires proper evaluation before implementing any procedure. For example, a customer service company may have an open-door policy for employees to discuss ideas, concerns and feelings. This would be appropriate to question things and think creatively, but in a military setting, this would be ineffective, as soldiers are expected to follow orders immediately without discussion.