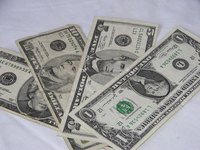 Bank and savings accounts are both considered financial accounts. In economics, however, the term "financial account" has a distinct meaning pertaining to international monetary policy. Just like each person has a checking account to keep track of finances, countries have a financial account that accomplishes a similar purpose.
Identification
Every country records its financial transactions with other countries through various accounts. Exporting goods and selling currency are two examples of such transactions. Peijie Wang, author of the book "The Economics of Foreign Exchange and Global Finance," explains that countries keep track of these balances of payments through a double-entry accounting method involving three different accounts: the current account, the capital account and the finance account. Wang states that the financial account includes direct investments from abroad, the assets and liabilities of portfolio and other investments, as well as reserve assets. Reserve assets include monetary gold, foreign exchange, special drawing rights and the reserve position in the International Monetary Fund.
Significance
Investopedia explains that a country's balance of payments should be zero. This means a country isn't spending more money than it has, be it through importing too many goods and exporting too few or making payments with borrowed money. When the amount of money in the financial and capital account is greater than the current account, the country is a "net debtor," meaning other nations own more of that country's debt than it owns of other countries' debt. Conversely, when the amount in the financial and capital account is less than the amount in the current account, the country is a "net creditor."
Benefits
Nations benefit by maintaining a positive amount in the financial account. China is an example of being in a "net creditor" position. China affects the balance of payments by exporting more than it imports. China also buys more foreign debt than the amount invested in China. Alan Winters and Shahid Yusuf, authors of "Dancing With Giants: China, India and the Global Economy," explain that China's financial account status allows the country to exert significant financial leverage in the global economy.
Considerations
Since 1985, the United States has been in a net debtor position, which means foreign-owned assets of the U.S. are higher in value than the U.S.-owned assets overseas. New York University economist Nouriel Roubini explains that an increasing trade deficit as well as China's and Japan's interest in buying U.S. debt is a primary contributing factor. A decrease in the private sector's savings and investment and, thus, a decrease in the financial account will also cause the U.S. to be in a net debtor position.
Warning
Though the development of nuclear bombs is one way countries can wage war, they are also in a position to do so through economic means. Other nations holding large amounts of a country's debt can have severe economic consequences. China owns so much U.S. debt that the risk of selling it off means China can influence public policy in the U.S., just as the U.S. had influence over public policy in European countries post-WWII because the U.S. was the primary holder of their debt. The Wall Street Journal refers to China's massive holdings in U.S. debt as a "debt bomb," warning that the U.S. cannot overspend and expect to maintain the status as the world reserve currency.