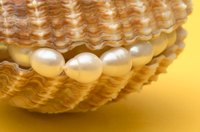 Two types of oysters that contain pearls are indigenous to Mexico--the Pteria sterna or "Rainbow-Lipped Pearl Oyster" and the Pinctada mazatlanica or "Panamic Black-Lipped Pearl Oyster"--and harvesting these oysters has cost the lives of many divers. Before the 16th century, the Gulf of California was known as the Sea Of Pearls and early divers did not have much interest in pearls other than as trinkets for necklaces.
Early Diving
Nude diving was done during the warmer months of mid-May to the middle of October in shallow water at a depth of 48 feet. Cloudy or muddy conditions made it difficult for the diver to distinguish the pearl oysters before he entered the water so he had to find the oysters once he was at the bottom.
Cortes
After the ship "Concepcion" sank in the Sea of Pearls, Spanish survivors returned from Bahia de La Paz in early 1534, relating tales of huge reserves of black pearls to the Spanish explorer Hernan Cortez. Cortez, along with 500 men, women and children, landed at the northeast section of Bahia de La Paz, also known as Santa Cruz, in May of 1535. He immediately renamed the sea, the Sea of Cortez--Mare Bermejo de Cortés or Red Sea of Cortez--and coerced the local tribesmen into diving for pearls.
From canoes, local Indian divers spent five hours a day diving for pearl oysters, using short sharp sticks to pry open shells and to fend off manta rays and sharks. Divers were paid a meager part of the catch. Divers had to be careful what they ate before descending as heavy foods, especially meat, cause breathing difficulties.
Ocio
In 1740, an enormous pile of pearl oyster clams washed ashore north of Mulege during a chubasco, a severe thunderstorm producing raging squalls, and vivid lightening. Local Indians collected the pearls they found in the shells and took them to a nearby mission, where a soldier, Manuel de Ocio immediately left his post and made a fortune hiring divers to harvest the pearl beds.
Early Industry
Many thriving small villages such as Puerto Vallarta depended on pearl diving and fishing, and by 1847, more than 100 boats had pearl divers in the region around Isla Espiritu Santo and Bahia de la Paz.
Yaqui Indian Divers
Between 1850 and 1890 pearl diving companies enslaved more than 800 Yaqui Indian males who stayed nights in chains and fetters on deserted isles in the Sea of Cortez and were forced to work the pearl beds by day.
By 1895, pearl entrepreneurs around La Paz and Guaymas had eight to 10 boats containing 200 nude Yaqui Indian men who dove into depths up to 12 fathoms, or 72 feet, for pearls. The men were no longer slaves but still unwilling workers. Not allowed tools to dislodge oysters from the bottom, the Yaqui men emerged with bloodied hands and feet, if they came up at all.
Equipment
By 1874, other pearl diving companies, incorporating larger boats, diving suits and equipment, sent divers to retrieve shells from deeper waters, and extended the season. Divers wearing newly designed diving suits suffered partial deafness, rheumatism and paralysis from quick temperature changes and long hours in compression, but the suits did reduce shark attacks. Many divers lost their lives due to faulty equipment and lax supervision.