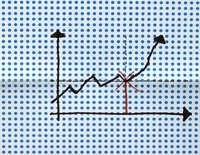 Investors want to place their capital in companies that will grow in value. But since the future is uncertain, investors look for clues that the company will grow, rather than stagnate or falter. In analyzing a company in hopes of predicting its performance, the two main schools of thought are fundamental analysis and technical analysis. Few theorists or practitioners hold to both, and neither has been either proven or debunked empirically.
Financial Ratios
Fundamental analysts live and die by financial ratios. In reporting on the financial state of a company, executives reveal various statistics like gross revenue, amount of debt, expenses, net profit, sales and many others. Various secondary values can be computed by performing operations on these base values. Profitability ratios like operating margin or return on equity can give information about the potential rate of return investors may expect. Liquidity ratios like the current ratio or operational cash flow ratio can serve as indicators of the firm's available cash to pay debt.
Fundamental Analysis
Fundamental analysis seeks to examine these ratios in detail in order to discern the health of the company and its likely future performance. This can require extensive knowledge of accounting. The ratios themselves are extracted from company accounting data, and may vary depending on the industry and company. The ratios may be affected by the type of accounting methods used, and expert analysts must be cognizant of what is being represented.
Trend Analysis
Trend analysis refers to the identification of a propensity for data over time to follow a discernible pattern. The assumption is that if this pattern can be identified and the data continues to follow this trend, then future values of that variable can be predicted with some accuracy. Trend analysis is applied by many disciplines to many subjects. However, where it is discussed in tandem with financial ratios or fundamental analysis, it usually describes technical analysis.
Technical Analysis
Technical analysts, sometimes called "chartists," hold that all the information that is relevant to a stock's price is already acting on that stock's price. If a firm's price was $15/share on January 10, they assert that there is no utility in examining newspaper clippings, the performance of competitors or even financial ratios for that time period. All that information, good and bad, has already acted on the stock's price yielding: $15/share on January 10. Furthermore, the advent of easily available computers has led to more widespread use of advanced statistical tools to make predictions.
Efficient Market Hypothesis
While the fundamentalists and chartists deride each others' practices as folly, adherents to the efficient market hypothesis hold that neither practice can provide greater than normal returns. The efficient market hypothesis states, in short, that not only are all past factors "built in" to the stock price, but all expectations of future changes in price are also incorporated. Neither financial ratios nor charted prices can provide data that will allow investors to consistently exceed the investment performance of the market as a whole.