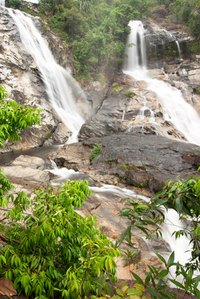 Thailand is more than a popular destination for people seeking sunny beaches and warm water. The country is rich with wildlife and plant life. Tropical rainforests and coastal waterways make up much of the country and are home to a dense variety of life. Many of the species that make their home there, however, face dwindling numbers as a result of overdevelopment and hunting practices.
Biodiversity
Thailand's warm climate and plentiful rainfall foster the growth of thick rainforests with abundant life. Thailand alone is home to 10 percent of the world's flowers with 27,000 different species. It also hosts 1,500 types of trees and 800 types of ferns.
Animals in Thailand concentrate in the forested sections of the country. The country has 282 different mammal species, 925 bird species and 176 snake species. The great numbers and diversification of species in the region make it a hotbed of biodiversity.
Animals
Thailand is home to a variety of unique animals that inhabit both the forest floor and the canopy above. The Malayan tapir, for example is a striking relative of the horse. Its black front section and white rear section may cause the animal to stand out during the day, but in the night, when the rainforest is full of black shadows and white illumination from the moon, the tapir is nearly invisible.
A distinctive animal of Thailand's rainforest canopy is the Gibbon. Gibbons are the smallest of the ape species at an average height of three feet. It is the animal's five-foot arm span that allows it to live most of its life in the canopy, moving through the branches at speeds up to 20 miles per hour.
Plants
Among the various plant species in Thailand, lotus plants, mangrove trees and orchids stand out for their great numbers and ability to proliferate throughout the land. Lotus plants flower above the water surface in lakes and ponds, although their roots lay in the silt below.
Mangrove, trees, also rooted in silt, grow along the coastal shores where fresh water mixes with salt water, preventing many plants from growing due to the variable salt concentrations and changing tides. To combat these conditions, mangrove tree roots grow upwards and are equipped to absorb nutrients from silt, water and even air.
Thailand, with 1,300 different types of orchids, is a destination for many orchid enthusiasts. These flowers are often found in ponds or other small bodies of water and, as with the lotus flower, are revered for their beauty.
Geography
Thailand's wealth of life is in many ways due to its location on the earth. Tropical locations, near the equator, are often rich in life because of long growing seasons and, in many cases, high amounts of annual rainfall. This is Thailand's condition. Rain and warm weather year round have allowed Thailand's rainforests, some of the most productive ecosystems in the world, to grow in abundance, providing homes to thousands of animal and plant species.
Environmental Impacts
The survival of plants and animals that have a home in the rainforest are continually threatened by development and hunting practices that reduce the wildlife population through habitat destruction and over hunting. Among the list of endangered species in Thailand are tigers, gibbons and rhinoceros.