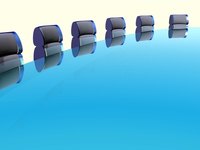 A non-profit organization's board of directors will often consist of local business owners and professionals. These individuals represent a deep vein of experience that can be utilized to the non-profit's benefit, usually through the establishment of a permanent or short-term group known as a board committee. Such a committee is formed to help solve problems such as locating new funding sources, creating methodologies for recruitment, promotion and advertising campaigns or even the implementation of ethical guidelines.
Function
A non-profit board committee will be formed to deal with a very specific problem within the parent organization. While some committee boards may last for years, others will only exist for a matter of weeks or months, depending on the requirements of the task . They will, however, all be dissolved once the task they were originally convened for has been completed and a final report on the subject matter submitted to the organization's board of directors.
Types
Committees are formed to deal with issues that fall outside of the normal business experience of the non-profit's board. As such, they can take on many forms but will usually fall into one of two types: A standing committee--also known as a permanent committee or operating committee--will often be formed to deal with ongoing, major activities within the organization. Standing committees may become a permanent feature of the non-profit. For short-term issues, the board will establish a group known as a ad hoc committee.
Standing Committee Examples
Audit committees are charged with selecting the organization's outside auditor, and oversee the audit process, according to Eileen Morgan Johnson in an article for ASAE & the Center for Association Leadership. Governance committees are responsible for board recruitment, orientation of new members, assessment and continuing education, while a finance committee will oversee the preparation of the annual budget and the organization's fiscal performance. Program committee members are charged with long-range planning and oversight of the non-profit's programs.
Ad Hoc Committee Examples
A bylaws committee reviews a non-profit's current operational practices, comparing them to the organization's bylaws before recommending any changes, if needed. A capital campaign committee's goal is to identify and raise funds for the organization, sometimes with the assistance of the finance committee. Strategic planning committee members are responsible for the development or updating of the organization's strategic plan while the ethics committee develops and implements guidelines for ensuring and resolving ethical disputes.
Development
Carter McNamara, in an article for Free Management Library, lays out nine points for developing a successful board committee. McNamara recommends that a committee have a well defined objective, clearly conveyed to the committee members. A committee, McNamara says, should meet bi-monthly, consist of a minimum of two or three members, with no member on more than one committee. Committee chairpersons should volunteer rather than be appointed and should report the group's progress at every board of directors meeting. Finally, a chief executive should serve in an ex officio position to the committee.