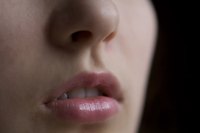 Actinic cheilitis is a common skin lesion that occurs on the lip, usually the lower lip. Also called solar cheilitis, cheilitis actinica and cheilosis actinica, actinic cheilitis is a precancerous condition caused by chronic exposure to the ultraviolet rays of the sun or overexposure to ultraviolet tanning beds or lamps. Actinic cheilitis has the potential for developing into invasive squamous cell carcinoma. Because actinic cheilitis cannot be cured, the best treatment is to remove the affected skin cells.
Appearance of Actinic Cheilitis
The lip will appear crusty or ulcerated. The crustiness may extend into the mouth. The skin of the lip may be excessively flaky or scaly. Lesions may be colored red or white. The skin of the lip will be tightly stretched, and there will be little distinction in texture and color between the lip and surrounding facial skin. The lip may appear swollen, and there can be white striations or stripes running throughout the lower lip.
Typical Actinic Cheilitis Patient
According to RDH.com, the National Magazine for Dental Hygiene Professionals, most patients diagnosed with actinic cheilitis are fair-skinned, white males, aged 50 or older; men are twelve times more likely than women to develop actinic cheilitis. Most have a history of smoking and most have substantial sun exposure, working outdoors as construction workers, fishermen or farmers. Patients usually reported having lesions an average of 2.6 years before being diagnosed.
Laser Treatment
Actinic cheilitis can be treated surgically using the Er:YAG (erbium:yttrium:aluminum:garnet) laser, carbon dioxide laser, argon laser and neodymium:yttrium aluminum garnet laser. All of these lasers satisfactorily remove the diseased cells and give a good cosmetic result with no lip deformation and little scarring, a short healing period and no loss of sensation.
Photo-dynamic Therapy
In photo-dynamic therapy or PDT, a light sensitive chemical is topically applied to the lip lesions or administered to the patient intravenously. Then the lesion is irradiated using a laser or special lamp, causing the photosensitive material to attack and kill the lesions. The method is curative, as long as the lesions are on the surface of the lip rather than deep into lip tissue, and gives a good cosmetic result with little scarring.
Cryosurgery Treatment
Cryosurgery involves freezing the lip lesions with liquid nitrogen. The extreme cold destroys the diseased cells. The method is effective at removing the lesions and leaves little scarring.
Electrocautery Treatment
Electrocautery uses a hand-held electrode that passes a high-voltage, high-frequency alternating electrical current into the lesion, killing the cells with heat. The technique is effective at removing the diseased cells, but may leave a scar.
Scalpel Vermilionectomy
Scalpel vermilionectomy involves removal of the affected cells by shaving the area and sometimes the entire lip. The treatment is effective, but may leave scarring. The newer state-of-the-art Mohs micrographic surgery removes one layer of skin at a time, minimizing scarring and yielding a good cosmetic result.