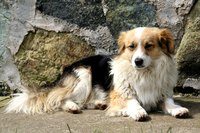 Dogs, like all animals, are prone to attack from parasites. Dogs are commonly affected by intestinal roundworms and the ventricle-dwelling heartworms, which can eventually cause cardiac arrest. There are numerous commercial veterinary products designed to eliminate canine worm infections, but many dog owners prefer to treat their pets with natural herbal antiparasitic agents. Cloves have been claimed to possess antiparasitic properties.
Antiparasitic Cloves
Cloves are a dried flower bud native to Indonesia but used worldwide as an aromatic spice. Cloves have been used traditionally as an antiparasitic for humans and animals alike and are regularly added to antiparasitic formulas. Cloves are just one of a number of plants shown to have antiparasitic properties and are commonly combined with the proven antiparasitic agents wormwood and black walnut. However, it remains unclear as to whether cloves exert a significant influence on parasite infection.
Canine Parasites
Dogs are affected by numerous parasites. Although roundworms are the most common canine intestinal worm infection, dogs may also suffer from whipworm or tapeworm infection, as well as a host of other parasites. Parasites can be picked up from numerous sources; intestinal parasites are spread when the eggs are ingested orally, although some parasites (such as the heartworm) can be transmitted through the bites of intermediate parasite hosts such as mosquitoes.
Antiparasitic Drugs
Commercial antiparasitic drugs for dogs include praziquantel, fenbendazole, pyrantel pamoate (embonate) and milbemycin oxide. However, there have been reports of serious side-effects from some drugs, such as diethylcarbamazine. Side effects have included anaphylactic shock and liver failure. While serious cases of side effects have been relatively few compared to the potential devastation of heartworm infection, many pet owners are concerned by what they perceive as the chemical toxicity of antiparasitic drugs and actively seek different options.
Theories/Speculation
Naturopath Hulda Clark states that cloves are a vital component of (human) parasite elimination, but that clove oil will kill the eggs rather than the adult worms. Some clinical studies, as reported in the October 2005 "Trends in Parasitology," indicate that cloves have some effect on certain types of worm, but are not found to be effective on a wide range of parasites. However, author Barbara Bouyet states in her book "Akita, Treasure of Japan" that cloves should form part of a natural deworming program for dogs, based on traditional Japanese treatments for worms.
Veterinary Clove Usage
Susan G. Wynn and Barbara Fougere in their 2007 book "Veterinary Herbal Medicine" do not emphasize the use of cloves or clove oil for the elimination of parasites, although it may be useful for other complaints. They also mention that cloves are toxic in cats, but not dogs. While they do not particularly advocate cloves for parasite infections, they indicate that because clove oil can be an irritant, animals are better treated using fresh herb decoctions (made by boiling the herb in water) or tinctures (infusing in alcohol).