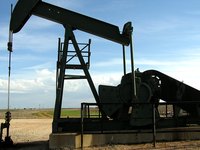 According to the International Crude Oil Market Handbook, published by the Energy Intelligence Group, there are about 161 different internationally traded crude oils. They vary in terms of characteristics, quality and market penetration.
Crude oils vary in price because they vary in quality. But the two crude oils which are either traded themselves or whose prices are reflected in other types of crude oil are West Texas Intermediate (light sweet crude) and Brent.
Differences
The "quality" of crude oil depends primarily on its sulfur content and API gravity. The American Petroleum Institute created the API gravity measurement--the weight of oil compared to water. The "lighter" the crude, the higher its market value because it can be used for more processes.
Light Sweet Crude
West Texas Intermediate (WTI) is considered a light sweet crude oil of very high quality and is excellent for refining a larger portion of gasoline. Its API gravity is 39.6 degrees (making it a "light" crude oil), and it contains only about 0.24 percent sulfur (making it a "sweet" crude oil). Early oil prospectors coined the term "sweet" because the low sulfur allowed the oil to pass their taste test.
Brent Crude
Brent is actually a blend of crude oils from 15 different oil fields in the Brent and Ninian systems located in the North Sea. Its API gravity is 38.3 degrees (making it a "light" crude oil, but not quite as "light" as WTI), while it contains about 0.37 percent sulfur (making it a "sweet" crude oil, but again slightly less "sweet" than WTI). The Brent blend is ideal for making gasoline and middle distillates, both of which are consumed in large quantities in Northwest Europe, where Brent crude is typically refined.
Crude Pricing
Generally, differences in the prices of these crude oils are directly related to the quality differences--the lighter the crude, the higher the price. But other factors can also influence the price relationships between crudes. Crude oil prices behave much as prices do with other commodities, with wide price swings in times of shortage or oversupply, war or peace and with fluctuations in supply and demand among developing nations in Asia.
Playing the Market
The NYMEX futures price for crude oil, which is reported in almost every major newspaper in the United States, represents (on a per-barrel basis) the market-determined value of a futures contract to either buy or sell 1,000 barrels of crude oil at a specified time. Brent blend is generally priced at about a $4 per barrel premium compared to the OPEC Basket price and about a $1 to $2 per barrel lower than WTI.
For example, on Friday, June 25, 2010, NYMEX West Texas Intermediate crude oil closed at $78.86 per barrel while Brent crude was $76.17 a barrel.