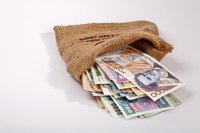 A fund statement is an accounting summary that indicates an organization's cash receipts and payments during a period. A corporation's top leadership often asks department heads and segment managers to prepare a fund statement to evaluate what operating activities require substantial investments, and whether funds are used adequately in those projects.
Definition
A fund statement is similar to a cash flows statement. It is a financial summary that indicates sources of funds and payments made during a period. To illustrate, a university controller may note that the institution's cash balance at the beginning of the year was $10.5 million, and the cash balance at the end of the year is $5 million. The university's fund statement may indicate that $1 million was used to reimburse a long-term debt, and the institution invested $4.5 million in stock and bond transactions on financial markets.
Significance
A fund statement serves as a pivotal cash-management tool because it helps an organization's senior leadership detect liquidity needs early, and improve corporate "working capital" models and "capital structure" ratios. "Working capital" is a measure of short-term cash availability, and it equals current assets minus current liabilities. "Capital structure" refers to various sources of funds that an organization uses to operate, including retained earnings (internal funds), equity investments and loans.
Operating Activities
A fund statement displays cash inflows and outflows related to operating activities during a given period. Cash inflow indicates liquidity receipts (customer checks, for example). Cash outflow represents payments made to a business partner such as a supplier or lender. Operating cash inflows may relate to customer payments, purchase discounts and interest income from investments. Cash outflows may include bill and salary payments as well as interest and tax expenses.
Investments
A fund statement also indicates cash receipts and disbursements (outflows) during a given time period. Cash disbursements related to investing activities could be purchases of fixed, or long-term, assets, such as machines or equipment, new plant construction or long-term investments in financial products such as bonds and stocks. Investing cash inflows may relate to joint-ventures between an organization and a counter-party (business partner) or the sale of a corporate long-term asset.
Financing Activities
Financing activities in a fund statement represent cash inflows and outflows related to stocks, bonds or loans. In short, financing activities instruct top management and investors on how the organization funds its activities. Cash receipts from financing activities may include loan proceeds as well as sales of bonds, convertible bonds, stocks and preferred stocks on securities exchanges. Cash disbursements from financing activities could be debt reimbursements.