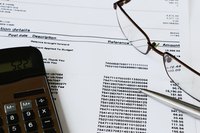 Personal checking software is more typically referred to as personal finance software. In the simplest of terms, personal financial software helps users track where their money comes from and where it goes. Personal finance software, offered by software manufacturers and financial institutions, is much more than a glorified spreadsheet or even basic checking assistance.
History
Automating personal finance tasks began with the first computer spreadsheet, Visicalc, created in the late 1970s by two Harvard Business School students. It was too complex for most users. Shortly after came Lotus 1-2-3, an easier-to-use, robust spreadsheet application. It included the cell notation still used by spreadsheet programs today.
Quicken, launched in 1984, gave users the look and feel of a real check and checkbook register. Originally marketed through banks, after favorable reviews it was offered directly to consumers. Within four years it became the top-selling personal finance software package.
Types
Today, personal finance software is distributed via purchased software packages, online Web applications and even mobile devices, such as cell phones. Many packaged applications offer a Web-based version that is either a free, streamlined version of the software, or in some cases, a fully functional version for an additional fee. Other packages are solely Web-based.
Basic Features
The primary consideration in selecting a personal finance program is the program's features and functionality. Minimum features include tracking income and expenses; writing and printing checks; creating and reconciling accounts; and online banking features, such as the ability to check balances, transfer funds between accounts and pay bills electronically. Programs also include reporting.
Next is ease of installation, including upgrades. A user should be able to install and maintain the software with minimal training. Web-based programs require no installation, but users will want to know how frequently the software is upgraded and whether upgrades are downloaded automatically.
Then there is ease of use, such as how quickly a user can enter data and begin using the program, and how intuitive the program is, determined by minimal need for special training and/or frequent reference to the user guide.
Due to the sensitive nature of financial data, security is an important consideration. Most programs include 128-bit secure sockets layer (SSL) encryption for transmitting data to the Internet and use password-protection, but the security is largely an issue of trust for users.
The final consideration is value, how the cost of the program compares to its benefits, and whether the program's online features involve fees for ongoing usage.
Advanced Features
Beyond the basic features, advanced personal finance programs enable users to get real-time stock quotes; manage their 401k; trade stocks, bonds and mutual funds; receive stock and tax-related reports; share information with their chosen tax preparation program; and assist with planning for retirement, saving for college, buying a home or other financial goals.
Popular Personal Financial Software
Comparisons of personal finance software are available from independent review sites and trade magazines. Today, Quicken is still one of the top programs for personal checking and financial management.