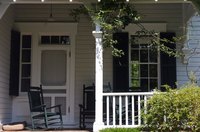 Economists working for large corporations may have the ability to calculate the value of stocks and bonds, but home economics experts know how to calculate the costs of raising a family and maintain a balanced budget. This subject, studied in high school and, for some, throughout college, provides several valuable lessons.
History
Rhea Shields and Anna K. Williams, authors of "Opportunities in Home Economics Careers," explain how the field of housing and family economics extends back two centuries. Because women were excluded from receiving an education in fields like science, math and law, they received education in the art of maintaining the home and family. In the late 1700s and early 1800s, women were taught how to sew, read, write and raise children. Shields and Williams state that, in 1862, the field of home economics was taught in universities and was broadened to include subjects like military training, agriculture and mechanical arts.
In 1909, the American Home Economics Association was established. Instead of calling the subject "domestic science" or "household arts," the committee ruled to call the field "home economics."
Trends
The subject of home and family economics has expanded beyond sewing and child-rearing classes. The introduction of women to the work force in the 1950s and 1960s changed the course of study to include vocational training. Students of home economics were taught resume writing and secretarial skills. Now, they learn about career aptitude to assess which career is best for their strengths. Technological changes introduced new subjects to the curriculum as well. Today's students learn about credit card interest rates and how to use the Internet to find the best shopping deals.
Benefits
The University of Michigan cites numerous benefits to studying home economics. The author explains that students of this field are able to use what they learn long into the future, like personal development and decision-making lessons. Consumer-related material teaches students about consumerism and the social forces that shape their beliefs of materialistic goods. This type of curriculum makes students assess spending habits. With family economics, students learn how to raise well-balanced kids. Raising well-adjusted children contributes to a healthy society, yet parenting is an undervalued course in the educational system: A person can go to school and become a brilliant doctor, yet still be a horrible mother.
Goals and Objectives
The Directorate for Quality Standards and Education specifies the following goals of home and family economics: Gain awareness and nurture the needs of family members, foster a loving environment, instill a critical assessment of products and consumer goods, understand consumer rights, maintain fiscal responsibility and prepare a balanced, nutritious diet for yourself and family members.
Curriculum
A typical home and family economics class has units devoted to nutrition and health, family well-being and resource management. In the nutrition unit, students learn about calories, fat, nutrients, carbs and how to balance these nutritional components in meal preparation. Some cooking lessons are also provided in this unit. In the family well-being unit, students learn how to tend to senior citizens and children as well as apply first-aid. The resource unit teaches students about fiscal responsibility, consumerism and maintaining a proper appearance.