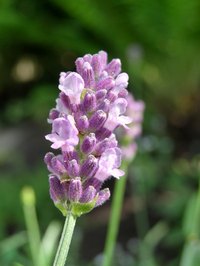 When faced with a toothache and not really a fan of the medicinal tastes of traditional relief, using lavender oil is an option. Applied to your ailing tooth, lavender oil provides natural, temporary relief. Historically used as a disinfectant and antibacterial agent, lavender oil relieves in two ways and offers a holistic option to alleviate pain.
About the Plant
Lavender oil comes from the lavender plant. Its name is derived from the Latin "lavare" which means "to wash." Flaunting beautiful purple flowers with a pleasant odor, the plant is prized for its aesthetic value. While lavender is grown all over, plants grown in Europe are the most prized. Lavender oil is harvested from the flowers of the plant. Lavender is one of few essential oils which can be safely applied to your skin.
Historical Uses
Lavender oil was applied by the Romans as an insect repellent and ingested as a food additive. Medieval and Renaissance Europeans applied the oil to castle floors to deodorize and disinfect them. Lavender oil was applied to European produced leather gloves to help the wearer ward off disease. The Shaker religious group introduced the healing properties of lavender oil to the United States after making effective medicines from the plants they grew on their land.
Why It Works
Lavender oil has multiple properties that make it effective in treating toothache discomfort. The oil has anti-inflammatory and antiseptic properties which guard against infections. These elements combine to provide temporary relief to your infected tooth. Lavender oil has the added benefit of aromatherapy, and allows those experiencing toothache pain to get rest due the calming effect of the oil. This is especially important at night, when you tend to be more affected by the pain.
Application of the Oil
Massage therapists and holistic healers advise using the following two application methods to alleviate toothache pain. The first involves sparingly applying the oil directly to your skin along the affected jawline, allowing an aromatherapy healing experience. The second application involves placing a couple of drops of the oil on a cotton ball and inserting it on the affected tooth. Because some people experience burning, you can mix the lavender oil with a little olive oil.
Warnings
Pediatricians advise against the use of lavender oil in prepubescent boys due to abnormal breast growth. Doctors are not conclusive on the safety of prepubescent girls using lavender oil so use is discouraged. Doctors lack conclusive data on the effects of lavender oil on babies, so pregnant and nursing women are advised against its use. As lavender oil relaxes the nervous system, you should stop using lavender oil two weeks before surgery to avoid anesthesia complications.