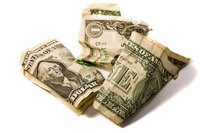 Paper money, also known as a bank note, is a legal tender promissory note from a bank or a government, payable on demand. Paper money represents the value of precious or semi-precious metals. Paper money is culturally and economically dependent symbolic currency that typically represents higher values, while coins represent lower values.
History
The first paper money was available in two forms: drafts and bills. Drafts were receipts for the amount of value held in an account. Bills were like I.O.Us, and represented payment at a later time, like a loan. Paper money may have its origins in ancient Mesopotamia where drafts called drachmas were created to represent grain.
Coins to Paper
Coins were the first circulating money, in both ancient China and ancient Rome. In china, coins had holes in the middle and were strung on strings for transport. When individuals became rich enough to have too many strings to easily carry, they began creating slips of paper that represented strings of coins, according to the website Currency Collector.
Materials
Most bank notes today are made of cotton paper, sometimes mixed with other cloths like linen. The paper is made from cloth so that it will be stronger and less likely to tear or lose its shape, according to the Geld Museum. U.S. money is made by the Bureau of Engraving and Printing. U.S. money is made from 25 percent linen and 75 percent cotton with red and blue synthetic fibers set in the pulp.
Advantages
Paper money is easy to carry, store and use. If it is destroyed, more paper money can be made. The value of the thing the money represents is not diminished by the destruction of the paper money. Today, legal tender currency is difficult to counterfeit in the United States because of the exacting paper regulations, inks and security strips, all designed and regulated by the secretary of the treasury.
Disadvantages
When paper money becomes abstracted from the thing it represents (as in modern day economies) it becomes possible for the value of the money to be distorted. Inflation is one example of this, where the value of goods and services becomes warped based on cultural and economic market factors that are symbolic, meaning not directly tied to the innate value of the goods the money represents. Often governments will fall into a cycle of printing too much money, resulting in a reduction in the value of a single dollar.